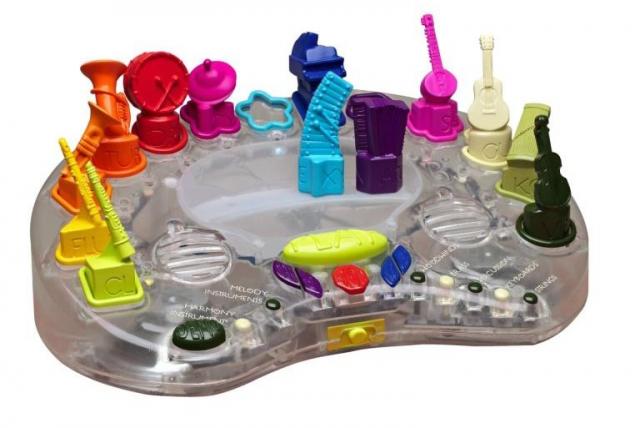 Symphony in B. from B. Toys stands out for being feature rich and extremely well executed.  This highly sophisticated and entertaining musical toy offers your child an entire orchestra to experiment with and teaches your child about instruments, tempo, colors, shapes and more.
While Symphony in B. is labeled for children aged 3-13 years, it brings appeal to a much wider age range.  My daughter loves this toy at 18 months and quickly learned how to move the instruments into place to play various tunes.  She lights up as the music begins and immediately starts singing and dancing along.  With thirteen instruments and fifteen different songs that can be mixed in various ways, this toy has held her attention for long spans of time and has been a continued favorite over the last couple months.
As a parent, you may be wary of getting your child a musical toy that she can become quickly enamored with, given the plentitude of tinny, off-key musical toys that are out there.  However, rest at ease, as Symphony in B. will literally be music to your ears.  B. Toys clearly invested in great speakers, as the sound that emanates from this toy is the best I've ever heard.  Also, with songs that range from the classic (Twinkle, Twinkle Little Star) to classical (Fur Elise), you'll be pleasantly surprised by what your child is listening to.   You may even find that this is a favorite toy for co-play, as it's just as interesting for adults to assemble an orchestra and play a tune.  You'll also appreciate that B. Toys has included a songbook so that you don't have to go hunting online for lyrics!
As children get older, they will progress from the simple lessons of using each instrument's color and shape to put them in their proper places to learning about the sections of the orchestra (woodwinds, brass, strings, etc., light up with the push of a button) and the affect of tempo.   Other thoughtful features include volume control, auto-off and a storage compartment to accommodate the thirteen-piece orchestra.
If you're a music fan or find that your child has a growing penchant for music, Symphony in B. is the perfect addition to your toy collection.  Available at Target for $49.99.