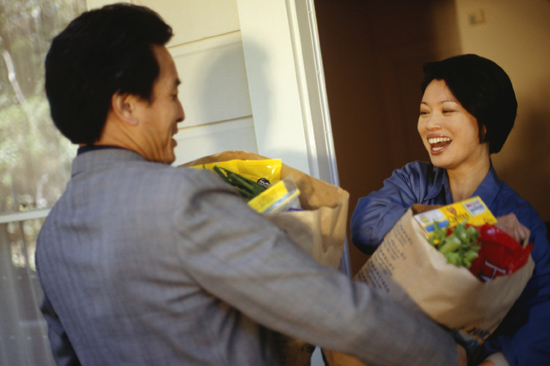 By Pamela Brill
After the birth of my second daughter, I had to accept my limitations as a mother: I had an emergency C-section and was unprepared for the medical restrictions that went along with it. Unable to drive, and thus make quick runs to the store, I realized I was rather helpless.
Then, by some miracle, I remembered seeing a Peapod delivery truck in our neighborhood and thought I might try ordering groceries online. A few clicks of the mouse, and it wasn't long before I had everything I needed. What a relief!
Many moms, especially first-timers and those without a support network nearby, are similarly taking advantage of the efficiency of these Internet-based services.
"Running errands becomes difficult with a new baby in the house," says Stacy DeBroff, president of MomCentral.com, "but our computers remain available to us at all times. A new mom can log on in her pajamas after the 2 a.m. feeding at exactly the moment she realizes she's almost out of diapers." Try these options for simplifying your postpartum schedule.
Groceries to Go
Ellen Cedfeldt of East Northport, NY, a mother of two, also turned to peapod.com a handful of times last winter when she didn't want to take her newborn daughter out. "I probably spent less money since I wasn't browsing the aisles," she says.
With service to Connecticut, Illinois, Maryland, Massachusetts, New Jersey, New York, Rhode Island, Virginia, and Wisconsin and more than 8,000 products to choose from, Peapod rarely lets down even the most picky shoppers. But perhaps the best thing about the service is its extensive range of features, such as the capability to pull up previous orders to speed return visits and the Express Shop feature, which lets you type in your grocery list, click on the Start Shopping link, and choose your favorite brands of the items from a selection.
Bonus:The site lets you sort items by nutrition—perfect for the postpartum mom striving to shed some pounds.
Insider tip: Registered shoppers receive discounts for future visits via email.
Another option: safeway.com
Dinner's Ready
You never truly appreciate the gift of a home-cooked meal until you're a sleep-deprived new mom who rarely has a free hand, let alone two. Magickitchen.com offers prepared meals that go effortlessly from the freezer to the oven or microwave, and on to the table. Menu options range from BBQ baby back ribs to pesto lasagna and are designed to suit any palate, including vegetarians and those with dietary restrictions.
Nationwide delivery means anyone can take advantage of MagicKitchen's services, be it for a one-time, one-serving dinner or multiple meals. For postpartum moms anticipating longer recovery times, meal plans can be set up in advance for an entire month's worth of dinners.
Bonus: A baby-shower registry enables your family and friends to purchase certificates for complete meals that you can redeem after baby arrives.
Insider tip: Through February 28, 2009, Pregnancy readers receive 10 percent off any item on the menu or a gift certificate with the promotion code BABY. First-time users who request a catalog can also get 10 percent off their first order via a promotion code.
Another option: supersuppers.com
Full Coverage
If there's one necessity new parents always seem to run out of at the most inopportune times, it's diapers. Rather than having to make a late-night dash or lug home a heavy box, let diapers.com bring the diapers to you.
Rachel Greenberg, a mom of one in Sacramento, CA, favors the website because it's organized by brand, making it easy to find what she needs. Shipping is quick, too, especially if you live in New York City, San Francisco, Boston, or the surrounding areas. "I received everything the next day and had ordered at 3 p.m. the day before," Greenberg says.
And they offer more than diapers: Wipes, formula, bottles, pacifiers, and other baby staples can all be found on the site. Environmentally conscious moms looking for green products can select from a variety of items, including gDiapers and Similac Organics baby formula.
Bonus: Ordering both diapers and formula easily adds up to more than $50, which gives you free shipping.
Insider tip: The Refer-a-Mom Program lets you earn credits when someone you refer places an order.
Modern Medicine
Late-night pharmacy runs aren't uncommon—there's never time to stock up on first-aid supplies. But with services like drugstore.com, it's easy to prep a stash for those wee-hour emergencies.
Angela Ayres of Seattle places orders on a regular basis, buying everything from disposable breast pads to diaper-pail refills in record time. "Most of the fields are saved, so it's only a matter of clicking to the end," she says.
And because drugstore.com partners with beauty.com, moms can also select from an extensive line of skincare and hair products. Items can be delivered together, so shoppers save on shipping, which is free for orders over $49.
Bonus: Purchases earn you drugstore.com dollars that can be redeemed every quarter.
Insider tip: Use the auto-delivery feature to automatically order specified goods every 30, 45, 60, or 90 days.


One More Way to Simplify
For moms with other children, it helps to have a carpooling system in place
for rides to day care or preschool post-delivery. A free-of-charge service called
dividetheride.com
simplifies the chore of setting up a carpool schedule with
other families.
After the moms from your school add their names to a sign-up page, the
service generates a carpool calendar and emails it to everyone in the group.
Later, text and email reminders let you know when it's your turn.

Pamela Brill is still reaping the benefits of shopping from home. The New York–based mother of two also writes for American Baby, Parents, and thecradle.com