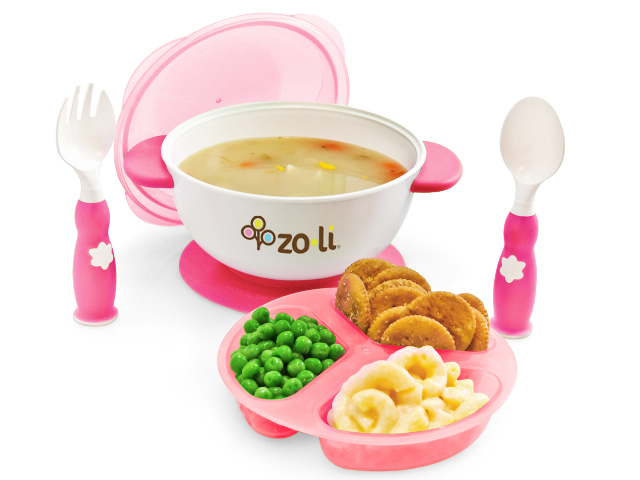 Hitting the 6-month mark for my new baby brought lots of exciting changes. She's sitting up unassisted, rolling over, and laughing more, but the most exciting thing (for me!) is that she's started eating solid foods. This really is a fun milestone all by itself, watching her expression as she tries new tastes, but it was made even better for me because of the amazing products that are now available for parents to make feeding baby easier, more convenient, and therefore more enjoyable! We started using the Zoli STUCK Suction Bowl Feeding Kit and the On-the-Go Stacking Containers right away.
The Zoli STUCK suction feeding bowl kit comes with a deep bowl with a suction cup on the bottom so that you can stick it securely to your table or high chair tray and avoid spills. There's also an inner tray that sits on top of the bowl, and is removable, with three divided compartments sized for serving multiple sides. Plus, there's a lid for storing everything at home or on the go.  Lastly, there's a cool spoon and fork (more like a spork) with wide handles that are easy to grip, for when your baby starts to learn to feed herself.
The bowl is really big, which will be super useful when my baby is eating bigger portions, right now it's just helpful to keep her hands away from the food, which is way down deep in the bowl.  The colors are bright and my baby loves playing with the spoon while I feed her with another one that has a smaller head. Right now her mouth isn't quite big enough for the included spoon (she's almost 7 months) but I'd imagine it should be in a few months. Until then, she loves playing with the utensils while we use another spoon.  The only other downside of this set is that the suction on the bowl isn't quite strong enough to stop my little one from attempting to overturn the bowl, but even that's part of the fun, right?  Keeps me on my toes! The materials are sturdy and dishwasher safe, and have stood up well to multiple washings.
The On-the-Go stacking containers are a modular stacking system of 4 brightly colored containers that screw together easily, each level creating a lid for the one below.  Since each container is separate, you get to decide how many you want to take with you, and each container stays stacked and sealed until you need it. It's a perfect way to take snacks in your diaper bag. The topmost lid has an easy spout that makes it ideal for pouring.  I'm making my own baby food (sweet potatoes, zucchini, and pears, oh my!) and using this system at home for portioning out a few days worth from the initial batch. These Zoli stacking storage containers keep it fresh in my refrigerator until I'm ready to use each portion.
I feel good about using these containers and feeding tools because the plastic is free of BPA, phthalates, polyvinyl carbonate (PVC), and nitrosamines.  You don't even need to know what all of those chemicals are to know you don't want them in plastic food storage containers for your baby! On top of being non-toxic products, Zoli brand products also feel good to me because they limit the use of plastics in their packaging—these products came in recycled cardboard boxes without a plastic window front.  Overall, these products are useful, colorful, cheery, good for your baby and the environment, and using them makes me smile every time.