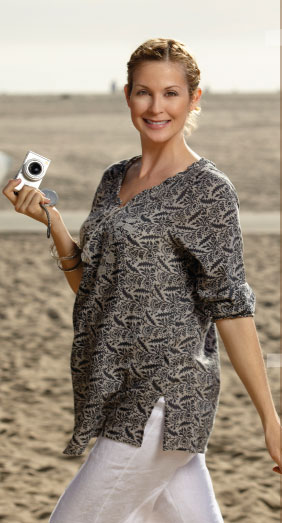 Photographed by John Russo
Styled by Micah Bishop
Interview by Abigail Tuller
Shot on location at Shutters on the Beach, Santa Monica
"Children are such a

source of joy and

healing. Work and

relationships are

challenging, but once

you have kids, they put

everything in

perspective and you

just want what's best

for them."
How are you doing?
I'm doing good, I'm doing really well. Since we've been in New York, I've been working and my tummy's getting big. She's movin' around a lot in there. I'm excited to get back to LA and have the last few months off before I give birth. That will be nice. So I'll focus on that.
I'll be done at the end of March and then I can go back to LA and get everything ready for the baby and then I don't have to come back until July, the baby's due the first week of June and then I'll go back to work some time in July. So that will give me enough time to rest and regroup and all of that.
What's your plan for the birth?
I'll probably have my mom there and Hermes will be close by and I'll get a baby nurse too. And I haven't had, I don't know if I'm going to do a doula this time, I probably will. I usually labor at home, I'm very close to where I give birth, the hospital and my doctor is so lovely he usually comes to the house and checks on me and everything. It just depends on how this one goes. With Hermes it was a little bit longer, I labored at home a long time before I even went into the hospital and I just try to do it as naturally as possible and be as comfortable as possible. You think you can prepare, but nothing can prepare you for the first time you give birth for that experience because it's just so extraordinary. So at least now I know a little bit more about what goes on, so I'm excited.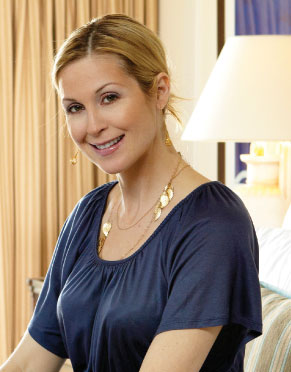 I'll probably have a doula. I had a doula with Hermes and she was so helpful through the process and I'll probably call her again when I get back to LA and see if she's available. Cause it just helps, I think no matter who's there by your side whether it's your mother, your husband, whoever, there's something nice about having that neutral party because they can help and keep everyone else around you together. And they know what's going on, especially if you're like me and you kind of want to do a lot at home, it's nice to have someone that's knowledgable around.
"One of my favorite

things about being a

mother is the smell

[of my son]. The first thing I have to do when I see

him is smell him. It's one of those instinctual

things, I guess."
How will it be going through it alone?
I think the important thing always is the kids and I just focus on being the best mom I can be and trying to handle everything as gracefully as possible in that transition. My mom went through it, I know other women who have gone through it, so if you just keep the focus on your kids and the love there that's the important thing, no matter what you're going through in life. Our children are such a source of joy and healing. So at least for me just having Hermes, like today, being out in the park with him and watching him throw snowballs. That's the important thing. Work and sometimes relationships are challenging, but once you have kids it puts everything in perspective and you just want what's best for them. That's really where my focus is, like I said, I waited until later in life to have kids, so it's really a blessing to be able to focus on that and have that be the priority—one of the benefits of waiting and kind of having your career for a certain number of years and being able to run around and do everything. And then you realize, Acht, this is so much more exciting and so much more fun and rewarding. I have a lot of support around me, friends and family have been great, and friends with kids.
Does Hermes know what he's in for?
He does, he's in and out of it. Sometimes he gets it and he's into talking about it and sometimes he's like, "Let's not talk about that yet." So we'll see, I think he'll be a great older brother. He loves to explain things, so I'm sure he'll have fun explaining to her how things are, how things work. And I just plan on including him in everything and that's what my mom did with me and my brother, and I have a great relationship—I was an older sister—so I kind of know and she just really encouraged me to help and be a part of it. And I still do, I'm still probably too much in my brother's business!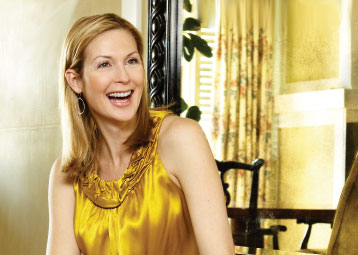 What's your work schedule like?
My schedule is pretty light, playing a mom on a show that's a lot about the kids. My work schedules really great. Next week I work one day, one scene in the morning, and the rest the rest of the week off. This week I worked three days and pretty much half days from early in the morning until after nap time for him. I've had a live-in recently that's I've brought from L.A. whose been with Hermes since he was about 8 months old.
I just found a wonderful woman who actually knows my nanny who is a night nurse and she's trained to be a nanny in the British tradition. I'll have her to help with the baby in the beginning so I can nurse and do all that. They've been really wonderful on Gossip Girl in terms of "Hey what can we do to make that transition smooth for you?" And they already did. When I decided to take this job I said, "Hey, I have a son and it's really important for me to be with him and they have been really respectful of that in terms of my schedule as much as they can. I think it's wonderful. I think today most women find that if you ask for it and tell them it's a priority, they usually are very respectful about it.
"I love to go to the nail place for a 20-minute foot

and neck massage. That does me for the whole day!

Or treating myself to a blended something or a hot

chocolate with whipped cream and taking a little

walk."
What will you call the new baby?
We have some ideas. Like with Hermes we didn't decide until kind of the last minute. We had a few names that we were playing with and we're going to kind of keep it to ourselves. We've got to keep some things!
What's your favorite thing about motherhood?
The smell. The smell thing is huge. The first thing I have to do when I see him is smell him. I just have smell him and kiss him and hold him. It's kind of t hose instinctual things I guess or just seeing him do something new. Now he's making sentences and he wants to see everything and point everything and show me what it is. It's like rediscovering the world again.
What's your biggest challenge as a mother?
The most challenging thing for me is not to worry. Because there are so many things you think about and worry about and I think it's natural. And I talk to my girlfriends and they all do it, so I think, "OK, it's not just me." Cause sometimes you think it's just me, I'm just overly worried about things. You want to do the right thing. There's always an element of you want to do the right thing, am I doing the right thing? I just really try to follow my own instincts and say okay, at least if I follow my own instincts one way or the other I can be accountable for it.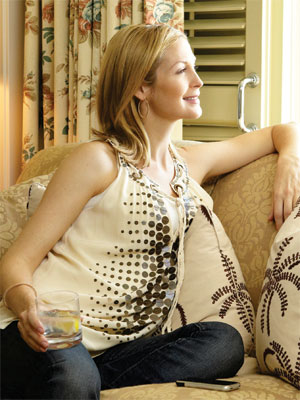 How have your girlfriends helped you during this time?
They've just given me a lot of reality. They've just said, "You do the best you can and it's important to take care of yourself as well so that you have something to give back. Because it's very easy to want to just live for them and kind of lose the sense of yourself and it's natural cause you're not sleeping and your identity shifts and there's a lot of changes that happen anyway. But just to do some self care, get some time to yourself, do a yoga class. Go out with your girlfriends, see people, get out, and also that they're children of the world. You always think They're mine and I have to do it the right way, but they're really a gift to the world somehow too and they have their own plan here. And really to kind of listen and support that as well, not to put my plan so much on him, or her, but to listen to what his purpose is and try to support that.
They kind of told me that in the beginning it's challenging and there are times you go, "Oh my gosh, he's actually playing on his own for 20 minutes, and I can actually walk over here and do something else for a minute?" There are stretches of time you start getting that in the beginning you think that you'll never ever have, which makes them even more beautiful when they do come back and want to hang out with you.
What do you do for self care?
I just think about things that make me happy. Like I go to the play center with my son. I go to the park. I get out of the house. We take the dog for a walk. A lot of what takes me away from worry is being my son. We went to the play center the other day and there were kids there, he played with all the toys, we painted, we spent 3 hours just together experiencing a whole other world and those things make me happy. On my own, shopping doesn't make me happy any more. It doesn't make me unhappy. I love to go to the nail place and get a massage, just a 20 minute, pop in, go to one of those little ladies and get a foot and neck massage. That does me for the whole day, I'm thrilled. Little pleasures like that, just going and getting a hot chocolate. Just saying I'm going to treat myself to a blended something or a hot chocolate with whipped cream today and I'm going to take a little walk for myself. Little things. It's not really big things right now, it's simple things. Just having a moment to myself when I can and just getting quiet or chatting with a girlfriend.