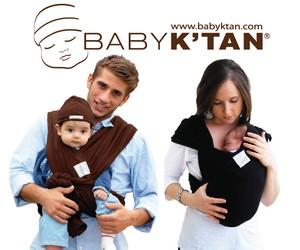 Win: The Baby K'tan Baby Carrier
The Baby K'tan Baby Carrier line is the only soft hybrid carrier that allows you to wear your baby without hassles such as complicated wrapping, and is an ideal blend of a sling and carrier. This secret behind the parent-invented baby carrier is its unique double-loop design, which gives added security and privacy while nursing and allows parents to carry their infants and toddlers in over nine different positions.  The Baby K'tan is lightweight and compact like a sling, but also goes over both of your shoulders to evenly distribute baby's weight with adjustable back support, like a structured carrier.  Every Baby K'tan also has a built-in back support band to keep mom and dad as comfortable as baby.
The Breeze carrier has the same great double loop design as the original Baby K'tan, but is made of 50% breathable mesh & 50% soft cotton. Lighter than any other carrier on the market, this mesh/cotton construction will reduce heat and moisture, making it more breathable and comfortable for baby and parent during outdoor active use, while retaining the same stability and ease of use as the original.
Retail Value:  $67.99