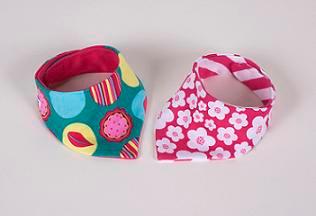 Win:  Per Bambini European Classic 100% Cotton Drool Catcher for Girls Per Bambini's mission is to make parents lives easier while growing a greener future for their children. We are proud to present a European classic: a three-in-one, 100% cotton drool catcher (Organic cotton also available).
Ideal for babies and teething toddlers ages 3 months to 3 years
Catches drool from babies and teething toddlers.
Makes a great looking, European-style scarf!
Serves as a bib while eating.
In our Premium Cotton Collection, we use 100% cotton fabric that is super-soft to the touch, and for our Organic Cotton Collection only 100% organic cotton is used.  The drool catchers are reversible and close with a rounded edge Velcro strip, which allows parents an easy adjustment to any neck size.  Drool catchers like these are a must-have for children in Europe, and they can be seen around the necks of babies and toddlers wherever you go! They complement any outfit and will help to keep your child's clothing dry and clean! Practical fashion…now what could make more sense? Retail Value:  $120, for six 2-packs Drool Catcher for Girls
Enter The Contest