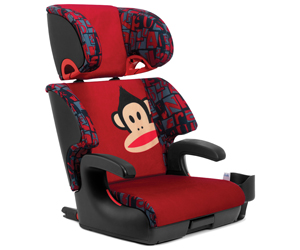 Clek Booster Seating Contest

2011 oobr – The First of Its Class in Booster Seating
Oobr is Clek's full back booster seat—built just like the seat in your car but sized for your child. Its metal sub-structure and unique recline feature bring new "firsts" to booster seating. Oobr also easily converts into a backless booster seat and is tailored with Crypton® Super Fabrics—a ride your kids can enjoy as they grow!
Reclining Seat Back
Providing up to 12 degrees of recline the reclining seat back keeps your child safe and comfortable during rides
Removable Seat Back
Quickly and easily converts to a backless booster seat
Crypton® Super Fabrics
Stain, moisture and bacteria resistant fabrics are easy to spot clean. Seat cushion cover is removable and machine washable
Elemental Safety System
Engineered with front, rear and side impact protection in mind
Safety That is Simply Elemental
Collisions happen from all angles. Oobr's exclusive Elemental Safety System was engineered with front, rear and side impact protection in mind. Comprised of five structural safety elements, the Elemental Safety System systematically secures and protects your child.
Rigid LATCH System
Locks the booster seat into place using your vehicle's LATCH (UAS ) anchorage system to provide additional booster seat stability in a collision
Energy-Abosrbing Foam Layer
(Headrest, Back Frame and Armrests) Absorbs energy in a side impact collision resulting in less force transferred directly to your child
Structural Headrest with Deep Side Wings
Connects to the magnesium frame using steel rods to reduce twisting movements and improve head protection in a collision
Magnesium Back Frame


Better contains the torso during a side impact collision and protects against vehicle intrusion
Reclining Seat Back
Helps keep the child's head back and within the headrest allowing your child to sleep safely and comfortably.
Contest open for U.S residents and it's good also in Canada
Enter The Contest