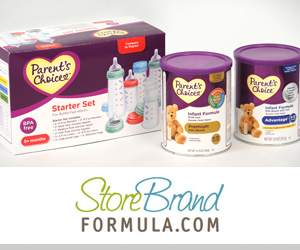 Win: PBM Products While breast milk is best, for moms who choose to formula feed, or want to supplement breast milk with formula, store brand infant formula can cost up to 50% less than national brand formulas.
PBM Products, the largest supplier of store brand infant formulas, produces 14 infant formulas to 78 retailer chains, that all meet the exacting standards of the FDA to provide formulas that are nutritionally equivalent to national brands.
In fact, side-by-side comparisons of PBM Products top-selling formulas, like Walmart's Parent's Choice Premium and Parent's Choice Advantage, reveal that they are often nutritionally identical to national brands.
Like all formulas, Parent's Choice infant formulas are nutritionally complete, and can help parents save about $600 a year.
Now, one lucky mom has the chance to win Parent's Choice Advantage and Premium Formulas, along with the Starter Set and product coupons.
For more information about store brand infant formula and Parent's Choice please visit: https://www.storebrandformula.com
12.9 oz can of Parent's Choice Premium: Complete with nutrition for your baby's first year of life, this milk-based infant formula contains all nutrients, vitamins, and minerals for growth and development, including natural prebiotic dietary fiber to help support baby's immune system.
12.4 oz can of Parent's Choice Advantage: This milk-based infant formula contains iron and the complete nutrition for a baby's first year. Enhanced with lutein and breast milk lipids, DHA and ARA, Parent's Choice Advantage helps to support an infant's mental and visual development. It also offers prebiotics that are naturally found in a mother's breast milk to support baby's immune system.
Two $3.00 off coupons for Parent's Choice Infant Formula (redeemable at all Walmart stores)
Parent's Choice Starter Set: a complete nurser system that includes a variety of bottles, nipples, liners, leak proof caps and retainer rings. This BPA-free nurser system is easy to clean and is top rack dishwasher safe.
Enter The Contest