The holidays are even more fun than usual when you have a little one around, but with so many kid products out there, where do you start with the holiday shopping? Never fear! Our gift guide is here to help you find gifts that are sure to make baby smile.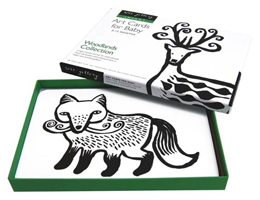 Wee Gallery Jungle Art Cards (ages 0-12 months) are beautiful cards that fascinate babies with their high-contrast black and white images. A set comes with six 5×7" cards that display different sets of animals. You can either lay the cards out for baby to play with or mount them on your nursery wall to create a mini gallery. These cards immediately captured my daughter's attention and held it as she flipped from one image to the next and then back through several times more. Created by a graphic designer-teacher, husband-and-wife team, the artwork is in a sophisticated yet child friendly style that both you and your child will enjoy. As kids will continue to enjoy identifying the animals even as they get older, there's no rush to take this artwork down after baby's first year. Go to www.weegallery.com to learn more.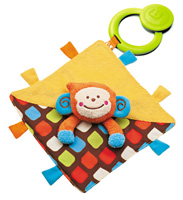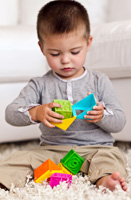 The Peek-A-Boo Snuggle Pal and Soft Peek-A-Boo Blocks (both ages 6 months and up) from B kids keep baby busy with cute characters and bright colors. Small, soft and highly portable, the Snuggle Pal is great for attaching to baby's car seat or stroller so that she can crinkle and rattle it anywhere she goes. This is an engaging toy that baby can easily interact with from the very first months. The Soft Peek-A-Boo Blocks include three hinged plastic blocks and a set of six soft, rubbery blocks that are easy for baby to grip. My daughter remains happy and highly occupied, as she loves putting the rubbery blocks in the hinged blocks, taking them out and putting them back in over and over again. Easy to stack and easy to knock down, this is a fun first building toy. Learn more about both toys at www.blueboxtoys.com.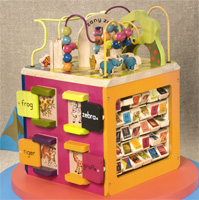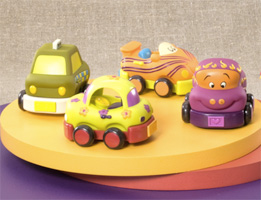 B. toys offers a line of amazing products that run the gamut from traditional wooden toys to electronic toys. Zany Zoo (ages 1-3) is a large wooden cube that captivates with five surfaces of engaging activities. My daughter has been fascinated with this toy, moving from the bead coaster to the alphabet tiles to playing peek-a-boo with four animals hiding behind four little doors. With cute illustrations, bright colors and quality craftsmanship, this is a favorite in our house for babies and adults alike. Wheeee-ls! (ages 1-4) is a set of four adorable vehicles that each sport their own personalities. Made of a soft rubber, these are a child's perfect first cars, as they're easy to grip and won't hurt when baby rams them into herself or you. Without needing batteries, these cars rattle and jingle and race across the floor after you pull them back to rev them up. My daughter's face lights up each time one goes sailing across the floor. These little cars have been great motivation for getting her up and moving! Available at Target stores, these toys are definitely worth checking out. You can also find more information at www.justb-byou.com.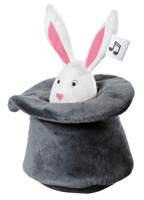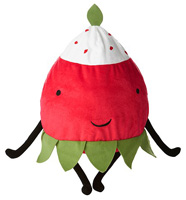 IKEA is known for creating stylish and affordable furniture, but they also carry a huge selection of adorable kids' toys, including an extensive line of plush. Leka Cirkus (all ages) is a musical toy with a bunny that can be pulled from a hat. As the bunny returns to the hat, it plays a soft lullaby that makes my daughter smile and break into a little dance every time she hears it. Torva Wild Strawberry (ages 1 and up) is part of a line of highly huggable soft toys that whimsically feature fruits and vegetables. My daughter has had to pull this toy away from me, as it is hard for even adults to resist picking this toy up and giving it a squeeze. Both Leka Cirkus and Torva are part of IKEA's annual Soft Toys for Education Campaign (running running November 1 – December 24) that benefits children in Africa, Eastern Europe and Asia through Save the Children and UNICEF.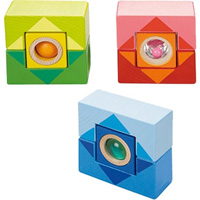 HABA Color Play Building Blocks (ages 1 and up) are quality wooden blocks that include six colorful bridges and three stimulating cubes that engage your child through visual, acoustic and tactile features. Even before these blocks were out of their package, my daughter was drawn to them, curious about how the prism in one block caught the light and how the small ball in another rolled around inside the cube. Now that the pieces have been freed, she enjoys knocking them down as I stack them into tall towers. Soon enough, I'm sure she will be building towers of her own. Made with solid Beechwood and water-based stains, this is a great toy that is safe for the little ones. Find these blocks at www.maukilo.com.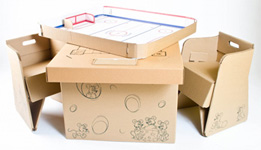 Cascades' Cardboard Playroom Table and Children's Chairs is a complete kid's furniture set that you can assemble from two flat-packed boxes. It's magical to see fully functional furniture pop up from flat cardboard! While assembly can take some work, it doesn't require any tools and is incredibly sturdy once put together – the chairs will accommodate your child for quite some time with a weight limit of 100 pounds. Made of cardboard and including two crayon compartments, these pieces provide a great space for kids to display their creativity by encouraging them to draw directly on the furniture surfaces. My daughter loves that it's ok to draw on this table! It's a quick and easy way to have a personalized play space. It's also ready to go as a game center with a cat and mouse game printed directly on the tabletop and a hockey game that easily attaches. These pieces are made from recycled materials and can be recycled once again when you're done with them – a green product that both you and your kids can enjoy. Learn more at www.boutique.cascades.com/ca/en.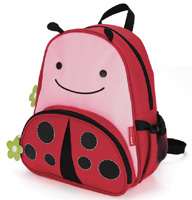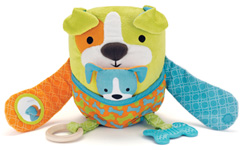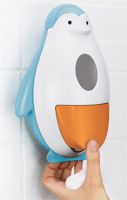 Skip Hop started out making diaper bags and has evolved into a company that makes a variety of fun and functional kids products, from bedding to feeding to bath items to toys. Zoo Pack Little Kid Backpacks are a delightful way to pack up all of your child's things. At the moment, we use the backpack to take our daughter's many loose items to and from daycare. However, we see this product growing with her and eventually holding her books as she starts school. We have the amazingly cute lady bug design – this bag also comes in a number of other designs, including a frog, a penguin, a monkey and an owl. With so many options, you're very likely to find your child's favorite animal and motivate her to carry her own things! The Hug and Hide Activity Toys (ages 3 months and up) come in five different animals and are another favorite in our house. This soft plush toy includes 10 different developmental activities, including peek-a-boo, a baby-safe mirror, two different teethers, various textures and elements that crinkle, chime and squeak – plenty to keep baby busy and exploring for quite some time. Soapster is a clever one-handed soap dispenser that can be mounted to the bathtub wall via suction cups, adhesive tape or screws. Whimsically shaped as a penguin friend that my daughter constantly chatters to while bathing, this tool mixes 1 part liquid soap and 1 part water to create a soapy foam for washing baby. It's a great way to make bath-time fun for both mom and baby. Find out more about Skip Hop and their entire line of products at www.skiphop.com.