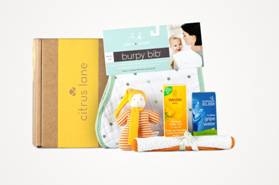 A few weeks after I gave birth to my first baby, I received the Citrus Lane "Welcome Home" care package and it truly brought a smile to my face. What a sweet packaging of very useful newborn baby products and helpful parenting information! It's always fun to get things in the mail, and the stylish presentation of the products in this care package/gift box was part of its charm. The cute printed box was stylishly arranged and contained five really helpful products to get me started my first month including: a Mommy's Bliss Gripe Water, a tube of Weleda Baby Calendula Diaper Care, one Sage Creek Organics Cotton Baby Washcloth, a Cotton People Organic Cotton doll, and an Aden + Anais cotton muslin Burpy Bib. All of these items were put to good use within days as diapering, burping, washing, and helping baby's digestion along are really the most important activities those first days. Along with those assorted products there was a welcome letter from Citrus Lane that explained the use of each item as well as a "Baby Boot Camp" information sheet with useful information for first time moms… including my favorite reminder, to "be gentle to yourself, get more help than you think you need."  Lastly, there was also a helpful article from Circle of Moms on the "Top 10 Essential Baby Items."
Not only were the products exactly what a mom of a newborn needs, it came assembled in an attractive care package, so it really felt like a sweet welcome home gift. If you are looking for something to send someone who's just had her first baby, don't hesitate to send a Citrus Lane care package. Especially for first time moms, those first few weeks it's pretty hard to get out of the house when you realize you need diaper cream!
Citrus Lane offers monthly care package gift boxes for parents at all different stages of a child's life. Boxes start with newborns and go up to 18 months, and are available in three, six, or 12-month subscriptions. Every month, subscribers receive four or five top rated baby products, along with parenting tips tailored to their child's age and stage. The products are chosen based on recommendations from Citrus Lane's community of parents, so they are always offering products that parents really love. I like that they don't allow companies to pay for placement in these gift boxes. In my opinion, the product assortment, the information for parents, and the overall presentation make the Citrus Lane care packages a great choice for a gift for any parent.