You believed it back in high school: Chocolate and french fries cause zits. But one look at your pink and pimply skin now and you know the culprit is hormones, which run rampant in your body during adolescence and pregnancy, increasing the sebum your skin produces and thus creating a breeding ground for acne-causing bacteria.
Unfortunately, the treatments teens rely on—Accutane, tetracycline—are off-limits to you now. And some doctors even recommend avoiding over-the-counter ingredients such as salicylic acid and benzoyl peroxide. So, how do you quit the zits?
"It's best to return to nature," says Los Angeles esthetician Maki Maodus, creator of mom-to-be skin care line Mambino Organics. She recommends a simple, alcohol-free toner after cleansing at night, something with antibiotic tea tree oil or witch hazel, even fresh lemon juice and a drop of water on a cotton ball, which will also brighten skin.
"It's like a light, natural facial peel," she says. Because this strips your face of some natural moisture, apply a light oil to regulate sebum production, such as evening primrose—Maodus' recommendation because it also calms the inflammation caused by acne and rosacea. Add a moisturizer if your skin isn't normally oily or acne-prone. Weekly, apply a gentle clay mask to absorb oils and tighten your pores, and never pick the pimple—this pushes the bacteria inside. "Leave it alone," Maodus says.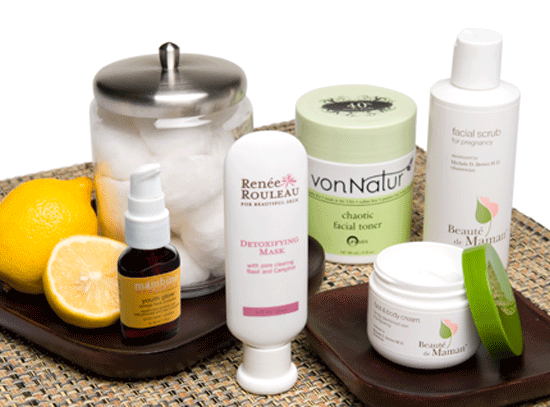 From left to right:
Mambino Organics Youth Glow Omega Face Complex, $26
Renée Rouleau Detoxifying Mask, $32
Von Natur Chaotic Facial Toner, $15
Beauté de Maman Facial Scrub for Pregnancy and Face & Body Cream for Oily, Blemished Skin in Pregnancy, $20 and $24