By the time you get to your third trimester, you may not be able to see your feet, but you know they're there—swollen and worn out. Luckily, it's perfectly safe to get a pedicure; in fact, it may be your only solution, because you probably can't reach your toes, either!
Most salons will take a few precautions, avoiding the area between the ankle bone and heel during any massage, even though there's no medical evidence that this causes contractions. "You should be really cautious about the massage part," says nail technician Ilona Pecnikovaite at New York City's Just Calm Down Spa. Salons may also skip stimulating essential oils, because professional preparations can be too strong; Just Calm Down's prenatal pedicure instead combines soothing milk and honey.
Easy-to-use home foot care products
At home, try these easy-to-use products in between pedicures to moisturize and refresh. Because the foot soak contains essential oils, use half the amount directed and continue only if it feels good.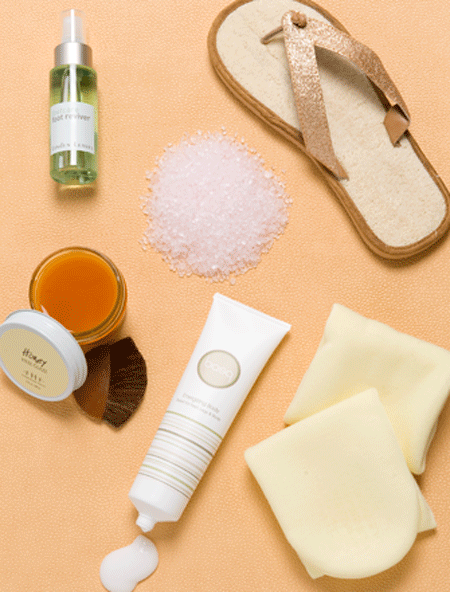 Clockwise from top left:
Linden Leaves Footcare Foot Reviver, $24
The Body Shop Peppermint Cooling Foot Soak, $16
Flipfox Wearable Footcare Twinkle in Gold, $25
Basq Soothing Spa Socks, $42
Basq Energizing Body Relief, $22
FarmHouse Fresh Honey Heel Glaze, $24