By Eve O'Neill
As if being pregnant hasn't already given your body a thorough workout, along comes the cold. Before you know it, last-minute shopping, social activities, and the chilly weather have done a number on your skin—especially your lips.
Because they lack oil glands, your lips dry out faster than the rest of your face. Winter's extremes—outdoor cold and dry heat indoors—can cause lips to crack painfully.
Before that happens, ramp up your wintertime protection. First, protect your skin from the inside out by drinking lots of water. Also, avoid licking your lips (it just dries them out faster), and always keep a protective balm on hand.
Cocoa butter and shea butter are the two best ingredients for extra-dry lips. "Shea butter isn't new, but it is a sustainable nut oil that's high in amino acids and other fatty acids," says Raffaele Ruberto, founder of Mod Skin Labs and maker of Chilean Lip Panache. "It's also brilliant for stretch marks!" Ruberto adds.
Products containing petroleum or mineral oil—both synthetic substances—should be avoided, because they don't get absorbed into the skin and can further dry out your lips. The jury is still out on whether or not menthol, a common ingredient in mint-flavored or "cooling" balms, may be drying to this delicate area, too.
And even though it's winter, use sunscreen! Our lips don't contain melanin, which makes continued SPF use just as important as in the summer, because snow reflects and intensifies the sun's rays.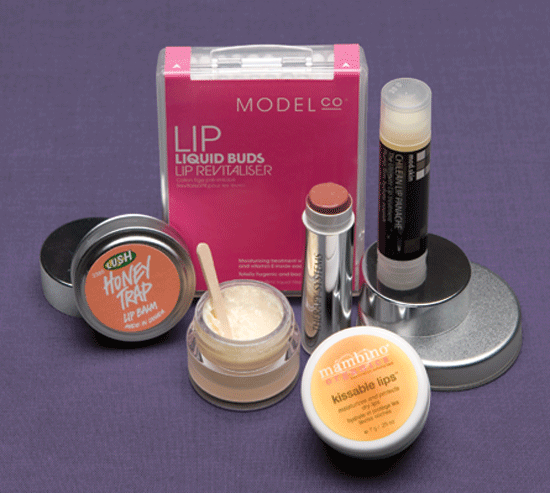 Clockwise from top left:
ModelCo Liquid Buds Lip Revitaliser dispenses just the right amount, $14
Mod Skin Labs Chilean Lip Panache has evening primrose to help renew, $9
Add a little color with Therapy Systems Tinted Lip Balm in Sunny, $22
For lightweight but effective protection, try Mambino Organics Kissable Lips, $6
Exfoliate dry skin with The Lano Company Vanilla LanoLip Scrub, $10
Soften lips instantly with Lush Cosmetics Honey Trap Lip Balm, $9