The splurger's guide to getting those extra 300 calories a day
By Kate Geagan, M.S., R.D.
We all know the saying, but are you really "eating for two" now that you're sporting a baby bump? And, if so, do you have license to reach for a daily treat because "the baby loves chocolate cake?" Tempting, for sure—but wrong!
Although it's true your baby's fully forming in the first trimester, it isn't until the second that her major growth starts. That's when your calorie needs go up an extra 300 a day, a requirement that lasts for the remainder of your pregnancy. The goal, of course, is to get these extra calories from healthy, baby-building sources, rather than donuts and ice cream.
So, technically you're not so much eating for two—you're eating for one healthy, hungry pregnant momma. And considering that an increasing number of women in the United States are starting their pregnancies at higher-than-ideal body weights, keeping extra calories in check is more important than ever.
Fortunately, you don't have to get too hung up on getting exactly 300 calories each and every day. "Some days you'll be extra hungry and eat an additional 500 calories, and other days food might not seem that interesting, and you'll only get an extra 150 calories," says Frances Largeman-Roth, R.D., a new mom herself and author of Feed the Belly: The Pregnant Mom's Healthy Eating Guide. "What matters is that you're eating healthy, mostly unprocessed, whole foods over the course of the week, and getting an average of 300 extra calories a day."
Of course, there's a catch: Most of us have no idea what 300 calories of food actually looks like. So if you dig into your favorite indulgence in the name of baby, it's likely you'll zoom right past your target and increase your risk of gaining more weight than you need. Take a look at what 300 calories of your fave cravings look like, and then consider some healthier alternatives that let you nosh more.
Actual Calories: 293
You can nibble on just three-quarters of a burger, unless you lose the bun. A better option—cook up a bison burger at home: It has more brain-building omega-3s!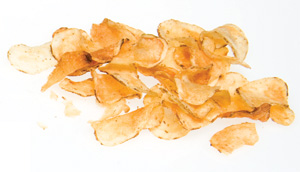 Actual Calories: 300
Two ounces of potato chips looks like plenty, but for the same number of calories, you could have more than five cups of air-popped popcorn!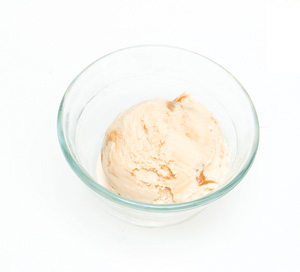 Actual Calories: 290
If you find comfort in ice cream, take care: this 1/2 cup serving might not satisfy your urge. Nearly three times that amount in pudding has the same calorie count.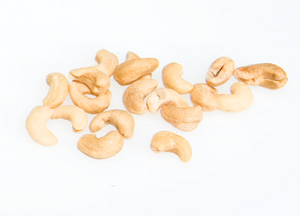 Actual Calories: 280
Nuts are a healthy choice, but they're calorie-dense, especially when roasted in oil. It's OK to enjoy about three tablespoons of cashews a day.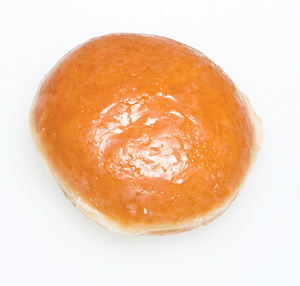 Actual Calories: 300
This jelly donut hits the number right on the nose. But… is the big sugar crash really worth it?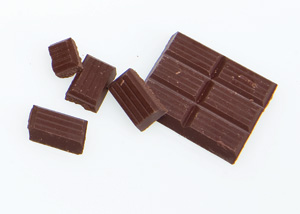 Actual Calories: 297
Sometimes nothing else will do—satisfy your sweet tooth with 1.75 ounces of high-quality dark chocolate with at least 70% cocoa and enjoy heart benefits to boot.
Kate Geagan, M.S., R.D., is an award-winning dietician in Park City, UT, and author of Go Green, Get Lean: Trim Your Waistline with the ­Ultimate Low Carbon Footprint Diet. She does not recommend jelly donuts as part of your diet.