everyone loves Ali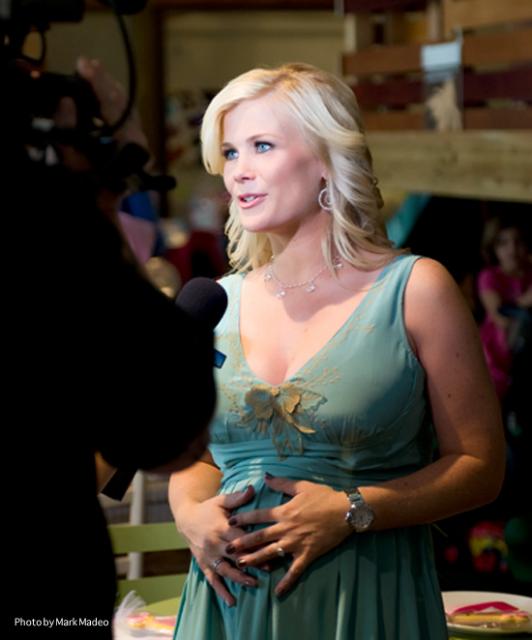 By Abigail Tuller

Photography by Mark Madeo and Eric Blackmon

Styling by Chelisa Patterson
Ever wonder about celebrity baby showers that get lots of publicity and corporate sponsors? It's simple. Everyone loves a party, especially in the name of a great cause.
In this case, Alison Sweeney—host of NBC's The Biggest Loser and Sami Brady on Days of our Lives—turned the shower for her second baby, a girl, into a celeb-studded event to benefit St. Jude's Children's Research Hospital. In lieu of gifts for Ali and the baby, the party's hosts—Ali's best friend Carrie Simons and The Hot Moms Club—asked guests to bring donations for St. Jude's infant and preschool patients. St. Jude's also received much- welcome contributions from generous co-sponsors BabyPlus Prenatal Education System and Huggies.
To maximize the fun factor for Ali's active 3-year-old Ben, the bash was held at Beverly Hills'
kid-friendliest venue, The Treehouse Social Club. The little guests had their run of the joint—the play structure, the toys, and the craft tables—while grownups mingled and enjoyed the adorable bird-themed décor designed by celebrity party planner, Hostess with the Mostess Jennifer Sbranti.
A Menu Fit for a Foodie
---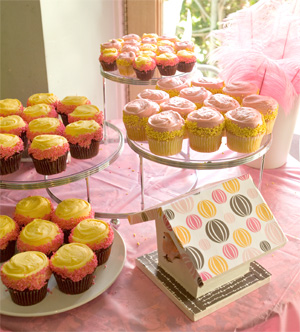 Our favorites were the smoked-salmon profiteroles with cream-cheese mousse, but it sure was hard to decide! Guests also feasted on mini versions of veggie quiche, bagels, and turkey pinwheels with avocado and sunflower sprouts. We nibbled fabulous salads—a delish pear-chicken combo as well as spinach with toasted almonds, roasted butternut squash, and sliced fennel with maple vinaigrette dressing—and Alison's heartier version of a tea sandwich made with melted brie and cranberry. Yum!
Oh yes, and the sweets were divine: perfect cranberry-orange scones, chocolate-chip muffins, chocolate-dipped strawberries filled with mascarpone mousse, and to-die-for cupcakes from Crumbs. And we can't forget the custom-made cutie bird cookies came from the famous Sunflower Bake Shop!
A Few Words From Ali's BFFs
---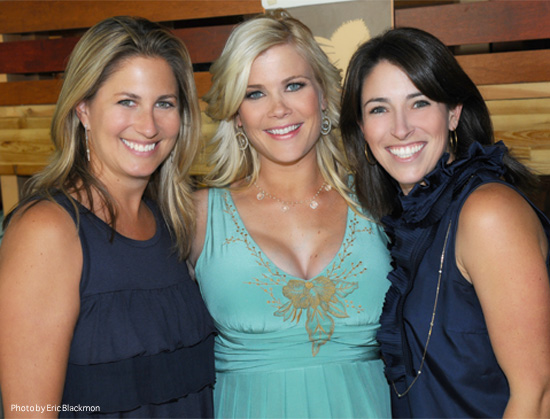 "Everything adds to Ali's life, but nothing takes away from who she is and her life. And she's such a great mom and she spends so much time with Ben, but she still is that girl that will go out for the fun dinners and the girls' weekends." —Carrie Simons (at left)
"Ali loves to cook. We're basically using her because she's a great cook and has great wine. Anytime Ali wants to make a meal, I'm there." —Lauren Townsend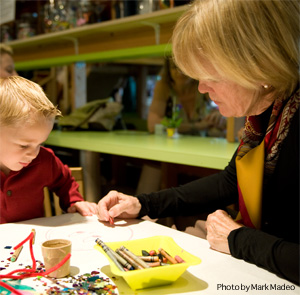 "I was a disciplinarian and I think she's carried that on beautifully. Ben is a lovely child and well mannered. I cannot tell you how proud I am to see her bloom the way she has as a mother." —Polly Sweeney, Ali's mom
"Ali is so much fun, so outgoing, and Ben is just a really great kid. One of her best attributes is that Ali is able to keep her careers and also be a great mom in such a balanced way. Nothing ruffles her feathers." —Ali's sister-in-law Erin Sweeney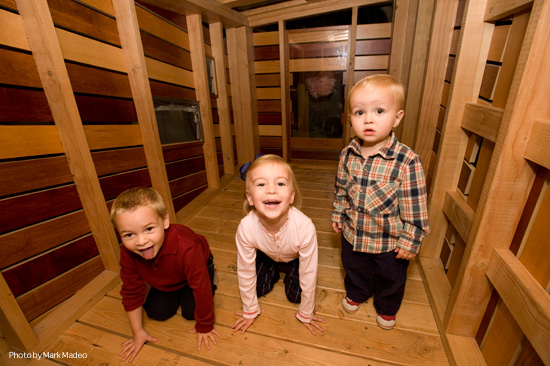 Ben with his cousins Margaret and Tucker
Ali's Soap Sisters Love Her Too!
---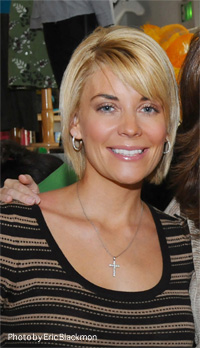 McKenzie Westmore"Ali and I have been really good friends for a long time. To be able to juggle what she does—work, family, spirituality, everything—she's an amazing woman, she's an amazing mother, she's an amazing friend."
—McKenzie Westmore, All My Children
"I've watched Ali become a woman from a teenager. She has grown up to be a wonderful mother and a wonderful person. She brings a lot to everything she does, because she does it with her heart and there's always passion. Children are really what life is about, and for Ali what's most important is family."
—Kristian Alfonso, Days of our Lives
"Ali and I have been archenemies [on Days] for years. Yes, enemies can be friends in real life, absolutely! It really has been amazing watching someone mature and become a lovely young woman and then a mom. Family is essential to your life and it gives you perspective. I can see that with Ali."
—Lauren Koslow, Days of our Lives
Our Treat
---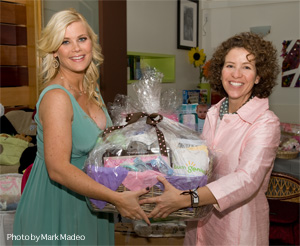 Alison with Pregnancy's Editor in Chief, Abigail Tuller
Of course we couldn't resist indulging Ali with a special kit of Pregnancy-approved, expectant-mom essentials. Her gift basket included:
Exergen Temporal Thermometer, www.exergen.com

Swaddle Designs Ultimate Receiving Blanket and Gift Set, www.swaddledesigns.com

Simply to Impress $100 gift card for announcements, www.simplytoimpress.com

Baby Safe Babysense V Infant Movement Monitor, www.babysafeus.com

bumGenius cloth diapers, www.bumgenius.com

BabyHawk mei tai carriers, www.babyhawk.com

Mothers Minder reminder bracelets, www.dvfamilyinc.com

Ingrid & Isabel BellaBand, www.ingridandisabel.com

Bébé au Lait nursing cover and burp cloths in Shrine Pink, www.bebeaulait.com