With all that comes with the first year of being a mom, new moms deserve something especially nice for the holidays. So, whether you're shopping for a new mom or are a new mom yourself who's looking for a few ideas to whisper to your significant other, here are some of our top picks for products that will delight and pamper all the new moms in your life.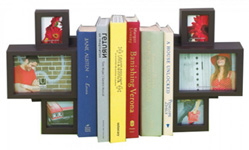 Umbra Lookend Bookends combine two must-haves for any new mom's home – picture frames and bookends. As a new mom with plenty of books and even more photos, I love that this product makes me feel better organized on both fronts. Stylish, with a clean, modern look that fits well with any décor, these bookends are the perfect way to show off new baby photos while also keeping all those parenting books in order. Make this gift extra special by pre-filling the frames with photos of the new family so that this gift is ready to use straight out of the box. These bookends are available along with a number of other fun and creative products on dormify.com.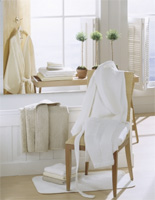 Monogrammed Valentino Light Weight Egyptian Cotton Waffle Robe from Luxor Linens lets mom lounge around the house in style, especially in those first few months when she's so busy that getting dressed just doesn't seem to happen. Made from lightweight Egyptian cotton, this robe feels great and maintains its quality even after several washes. Personalizing the robe with monogrammed initials is a great touch, and you have several options for customizing it by choosing robe color (white or beige), thread color and text style. A subtle monogram with tone-on-tone monogramming, where the text thread is of the same family as the robe color, is especially elegant. Not sure if she wants her initials on the robe? "MOM" is a fun three-letter alternative that will make her smile. This is a gift that mom will enjoy slipping into on a daily basis! Find it on luxorlinens.com.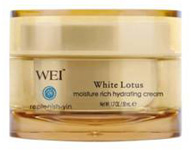 WEI Beauty White Lotus Hydrating Cream gives mom an energizing start to her day and helps revitalize her as the day comes to a close. As new moms nurse and find themselves constantly washing their hands, it's no wonder that they often feel dehydrated. Infused with elements of the white lotus, a flower known for its ability to hold water, this cream is intended to restore moisture to dry skin. This hydrating cream feels great as it's smoothed on as a facial moisturizer following cleansing. Non-oily and with a fresh, natural scent, this cream immediately leaves mom's face feeling well nourished and rejuvenated. Applying this cream is a simple routine that I look forward to each morning and evening. With all that new moms have to deal with on an ongoing basis, this cream gives mom a great reason to pause and indulge. White Lotus Hydrating Cream is available at www.weibeauty.com and www.spacenk.com.