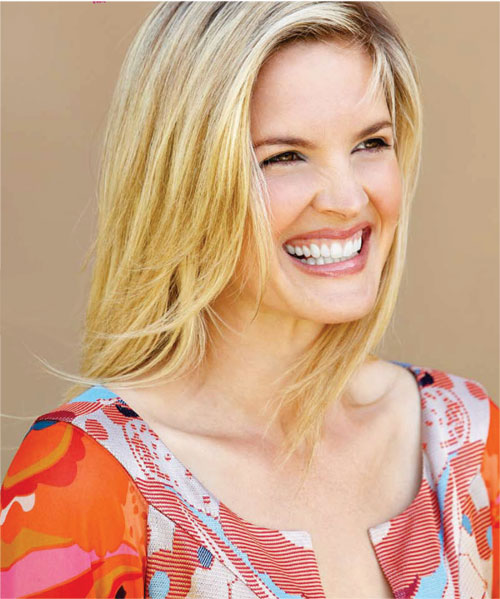 Styling: Sarah Stanley: Key hair and makeup: Laly Zambrana (hair: Hollywood Finish; makeup; Ko Gen Do); dress by Diane von Furstenburg
Interview by Abigail Tuller
Photography by John Russo
How has having kids changed your marriage?
How has it not changed our marriage is the question! The first time around as a mom, I held on really tight and I was so stressed. Pete was a little freaked, so he wasn't doing anything. And we were like, "What's happening here?" By the second one, he was more confident and I was more relaxed and then you just sort of jump into a rhythm.
Your boys, Christian and Ryan, are 6 and 3 now. So who's the disciplinarian?
We both do it a little bit differently. Pete laughs at me because if they are doing something, I say "Let me explain that" and "Let me remind you, this is how we need to do that, so let's not do it that way again." He'll say to them, "Hey—stop it."
I had to tell myself, OK if nothing that they're doing is going to physically hurt them, just keep your mouth shut, Bridge. And he had to learn to allow me to talk things through. We had to give each other permission to be different as parents. That's why there's a mom and dad each with a different approach, because you do need both.
"If all I do is love my kids and put my best
intentions forward, it's going to be fine."
Do you have any advice for the new mom?
It's a matter of acknowledging that you know more than you think you do. You have to do what's right for you and that isn't necessarily going to work for your friends. Your rhythm and process and how you do it might be different, and you don't have to justify it, you just have to be.
What was your biggest challenge as a new mom?
It was very hard for me to leave my kids. It was just devastating to have to get a babysitter that wasn't family. We went through some nightmare experiences with babysitters, but when you find that right person, to still be willing to go out to dinner and not lose your relationship with your husband…that was work for me. I was like, "I love you and all, honey, but I'm busy. I got my babies!"
Pete was like, "Oh my God, I'll fly your mom down! Can we just spend the night, one night somewhere?" So I said, "OK, sure." You have to stay connected to each other. I know my husband felt not so much a part of it and [when he felt] not a part of me, it made everything so much harder. That was a lesson that took me a while to learn.
Being married to a professional athlete, how do you manage the expectations on the boys?
Ironically, I find Pete to be more relaxed than some of the dads that I see. He is not one to push; he's not pushing tennis, they don't even play tennis.
Do your boys understand what Pete's career was like?
No clue. Really, no idea. [When strangers introduce themselves, Christian will ask], "How does he know you, Daddy?" "Well, he saw me play tennis." And he will be like, "Oh. Where?"
And what about your career?
I haven't really ever considered that I wouldn't go back, it would just be a matter of when. For now, I want to be there when [the boys] wake up and I want to be there to put them in bed.