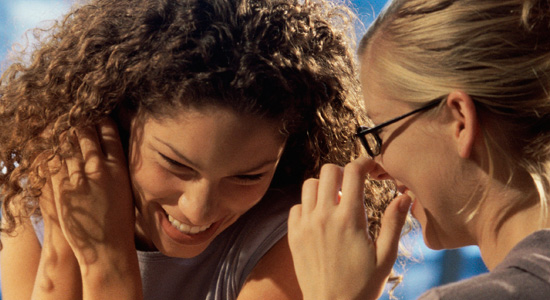 By Christy Rippel
If you met your ob/gyn over coffee rather than a pair of stainless steel stirrups, she'd probably let you in on some doctor secrets she doesn't share with every pregnant patient.
"With girlfriends, my advice can be a little different because I know them well and know their habits," says Sarah W. Prager, M.D., an ob/gyn and assistant professor of women's health at the University of Washington School of Medicine in Seattle.
We gathered Prager and several other ob/gyns who could be your girlfriends—most of them have had babies themselves—and got them to go open up about topics like firing your ob/gyn and delivery-room gross-outs (Hint: They don't bother doctors in the least). Here's what they would tell you if you were a friend, rather than just another name on a medical chart.
Finding the Right Doctor
Just because your doctor has an M.D., that doesn't mean she's the best provider for you. Yes, you can fire your doctor—and if you are uncomfortable or unhappy with your care, you should.
"Women switch all the time, for all kinds of reasons. Sometimes it's just a compatibility issue, and most doctors don't take it personally," says Wendy Clarke Wilcox, M.D., an ob/gyn at Montefiore Medical Center in New York City.
Remember, it's your pregnancy, and you're in control of who provides your care. But Wilcox does suggest making the change as early as possible, because waiting until the last minute can cause a hardship for your new ob/gyn. "Relying on another doctor's notes to get up to speed can be difficult," she explains. If you're too shy to tell your ob/gyn you're switching, talk with the front desk to ensure you get your complete record.
Whether or not you're looking for a new doc, it's important to ask an ob/gyn some key questions when you get pregnant, such as how her practice handles complications; some would refer you to a high-risk specialist, while others are equipped to deal with most situations. You should also be sure you'd have access to a nurse or physician for after-hours questions.
One more vital subject: how deliveries are managed. "I think most patients expect that their doctor is going to be around more than she is during labor," says Keisa J. Godwin, M.D., an ob/gyn at The Emory Clinic in Atlanta. Your physician is only one part of a labor team that includes nurses, who will monitor vitals and report back to the physician in charge, Godwin emphasizes. But if you're looking for more personal attention, it can be found: Lanalee Araba Sam, M.D., an ob/gyn in Ft. Lauderdale, FL, limits her boutique private practice to only a handful of patients each month. Sam stays with her moms-to-be from the first contraction until the baby's birth, but the service comes with a hefty out-of-pocket expense.
Trust your instincts during your interviews with ob/gyns—if you get any kind of bad vibe, move on. "You don't have to compromise," Sam says. To get a list of potential obstetricians, tap into your friends and acquaintances for referrals, Prager advises, because people are very candid about their experiences with physicians. You'll quickly find out which docs get glowing reviews and which ones get the thumbs down.
Once you find a doctor you connect with, keep the relationship strong by avoiding what Godwin says ticks off docs the most: patients who demand that certain tests or treatments be done before discussing it at the appointment. "Communicate your concerns, but be open to the discussion," Godwin says. "You can set up the doctor/patient relationship for failure by not being flexible."
Make the Most of Visits
Shh! It's the front office's best-kept secret: There are three coveted time slots during the day that you can choose from to make the most of your visits. To avoid long wait times, choose the either first appointment of the day or the first one after lunch. "Most doctors fall behind the farther along they get in their schedule," Prager says. And if you want extra time with your provider, the last appointment of the day can also be a gem, Godwin explains. "Your doctor won't have three other patients waiting to be seen, so she may be able to spend more time with you. If you like to talk a lot and ask questions, this is the best appointment."
Once you do make it into the exam room, remember that your scheduled time for prenatal visits is brief: about 30 minutes for your first appointment and 15 minutes for the others. Given the short period allotted, you're better off coming prepared. Don't stop at making a list of specific questions—show it to your doctor or make her a copy, Godwin advises. "If I see all the questions on paper, I can prioritize the concerns…I can ask myself 'What does my patient most need to know about on the list for her health right now?'"
Two questions that might be on your list are "Is any alcohol allowed?" and "Can I still dye my hair?" Our docs would give a girlfriend the OK—with a few cautions and tips. "An occasional glass of wine after your first trimester is not a big deal and isn't going to cause fetal alcohol syndrome," Prager says, who had a once-in-a-while glass of wine during her own pregnancy. "But I wouldn't recommend having more than one glass any particular day, or even drinking daily."
If you don't want to forgo the salon experience but worry about the unknown effects of hair dye, Wilcox offers up a compromise: Avoid it in the first trimester, and then go for highlights instead of all-over color, because the highlighting process involves less direct contact of the color with your scalp.
The Doc's Perspective
According to our panel of ob/gyns, their pregnant patients blush over their nipples turning brown, horrendous acne, a lack of interest in sex, or a libido in overdrive. All of these can be traced to surging hormones and are normal, Sam says. So if you're shy about bringing up a concern with your doctor, rest assured she has heard it all before—however, she can't provide a solution or suggestion if she doesn't know what's bothering you. Go ahead and speak up; doctor-patient confidentiality means your concerns don't leave the exam room.
And if some of pregnancy's quirks make you blush, others might be frightening, like bleeding that seems to be coming from your vagina. "You always need to get it evaluated, but don't automatically think it is a major problem or that you are miscarrying," says Prager, who contends it is sometimes difficult for a patient to determine where the blood originates. Possible culprits include a urinary tract infection, hemorrhoids, or small cuts known as fissures, which happen as a result of constipation.
But these somewhat embarrassing physical symptoms will help you to prepare for labor day, when a baby won't be the only thing to exit your body. "Delivery is a messy business," says Wilcox, who promises that bodily fluids and functions don't gross out ob/gyns in the least. Godwin says "all bets are off" in the delivery room—she's seen patients scream, cry, and even bite their labor coaches.
As for that fear of pooping on the table? "It happens in almost every delivery—as the baby's head comes through, anything in the rectum is going to be pushed out, too," Godwin says. Thankfully, all of our docs say your delivery room antics and, er, deposits aren't a hot topic in the break room afterward. Says Sam, with a friendly chuckle, "What happens in the delivery room stays in the delivery room."

One of Christy Rippel's best girlfriends is an M.D. who lets her in on all kinds of doctor secrets. Rippel writes about pregnancy and parenting from her home in Winston-Salem, NC.