By Jennifer Sbranti, Hostess With the Mostess
You may not have been to one yet, but baby-welcoming parties are a wonderful trend gaining popularity. These get-togethers give everyone a chance to come meet the baby in a festive, yet comfortable and convenient setting.
it's the efficiency that new parents seem to love. In the early days of parenthood, scheduling multiple visits from all your fans while adjusting to life with a new family member and the changes that brings can be overwhelming.
Typically held four to eight weeks after baby arrives, welcoming parties can be thrown in lieu of a Christening, Bris, or baby shower. Sometimes the new parents host the party themselves, and other times a friend or family member plays hostess. Either way, the help of a loved one is usually appreciated—and often necessary!
Whether you're having a marathon open house or a short, simple party, set out light food and drinks for guests to enjoy, as well as fun decor to create a festive atmosphere. Themes, personalized invitations, photos, and mementos to take home definitely aren't necessary, but they will make your event one to remember.
There's no need for games and activities at welcoming parties… something that most guests will appreciate! Make it a relaxed, fun time for loved ones to mix, mingle, and—most importantly—meet the pint-sized guest of honor!
Jennifer Sbranti is the founder of HostessWithTheMostess.com Her unique party designs have been featured on Extra! and in Real Simple.
A star is born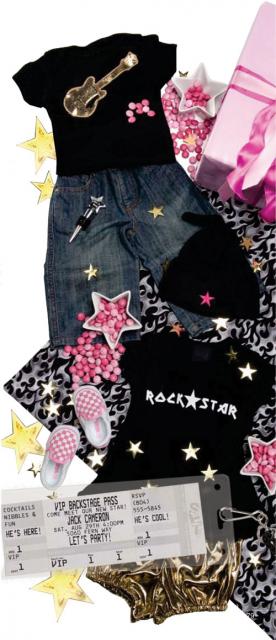 From top:
Lola Baby Guitar Gold Infant Bloomer Set (Guitar Shirt and Gold Lame Bloomers), $40 twilitemoon.com
Tea Collection Sora Denim Regular Fit Jeans, $54, twilitemoon.com
Kate Aspen A Star Is Born Bottle Stopper, $33 for 12, babiesrus.com
Lowleepop Emergency Rock Star Kit (includes Cap and Dress; Bib and Leg Warmers not shown), $36, lowleepop.com
Mini Star Dish, $3 each, crateandbarrel.com
Vans Infant Checkerboard Slip-Ons in Aurora Pink and True White, $22, vans.com
Rock a Bib Baby Headliner Blanket in Bad to the Bone, $48, myretrobaby.com
Kamyra in Print Baby Shower Ticket in Silver With Ticket Pouch and Lanyard, starts at $1.40 and $2.20 each, partyinvitations.com
Time to celebrate baby's first birthday!
You can make it fun and relaxing for everyone (yes, you too) with Jennifer's 5 easy tips.
1. Pick a theme, and then create your own hip version the guests will love. Whether it's a specific idea like our tropical luau, or something as general as a fashion trend, having a theme always makes your planning and decision-making processes so much easier.
2. Create framed photo collages or arrangements featuring the guest of honor at different stages of his first year. Simple frames are very inexpensive these days- you can pick them up at Target, IKEA, or craft stores for about $5 each. To tie the frames in with your party decor, embellish them or mat the pictures with the wrapping or scrapbooking paper used in the theme.
3. Create custom confetti with scrapbook punches. Use pictures of baby and your party decor patterns, then sprinkle around the party area-—out of baby's reach!
4. Keep the ages of your guests in mind. If you'll be hosting many young children, set up a special area for them to play in so parents get a chance to enjoy some adult conversation. If your guests are mostly adults, tailor your party accordingly.
5. Don't stress, keep your budget in check, and have fun! There are so many pressures already associated with parenting—throwing the "perfect" first birthday party does not need to be yet another one. (You can wait until she's 16 for that!) Right now your little one won't know the difference between a $10 centerpiece and a $100 version!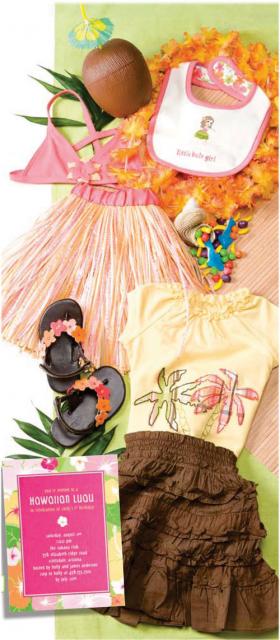 From top:
Luau Coconut Cups, $10 for 12, designed2bsweet.com
Hibiscus Parasol Straws, $3, desgined2bsweet.com
Jumbo Two-Tone Maui Flower Leis, $10 for 12, designed2bsweet.com
Gymboree Hula Girl Bib, $8, gymboree.com
Gymboree Hula Costume, $35, gymboree.com
Crazy 8 Tropical Ruffle Tee in Daylily, $10, crazy8.com
Crazy 8 Flower Sandals in Chocolate Brown, $15, crazy8.com
Crazy 8 Ruffle Pieced Skirt in Chocolate Brown, $17, crazy8.com
Tiny Prints Lively Luau Birthday Party Invitation, starts at $.99 each, tinyprints.com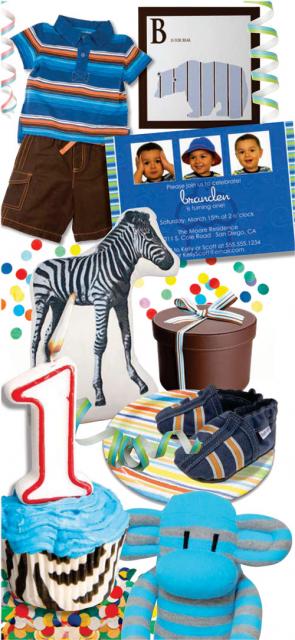 From top:
Genuine Kids from OshKosh Beach Monkey Polo in Blues, $9, target.com
Circo Cargo Board Short in Brown, $7, target.com
Restoration Hardware Baby & Child Bear Silhouette Print, $99, rhbabyandchild.com
Sweet Baby Designs Cupcake Birthday Boy Invitation, starts at $1.74 each, sweetbabydesigns.com
Fauna Pico Pillow in Zebra Black On Natural, $24, designpublic.com
IsaBooties Racers in Graphite, $29, isabooties.com
Bake It Pretty Zebra Print Baking Cups, $3 for 50, bakeitpretty.etsy.com
Storeyshop Stripey Sock Monkey in Blue and Grey, $40, storeyshop.etsy.com
Enjoy!
You likely haven't had much time to spend with friends and family during the past year! So relax and focus on creating a casual party and a fun atmosphere that everyone—that includes you—can enjoy. Everything else will be icing on the cake!