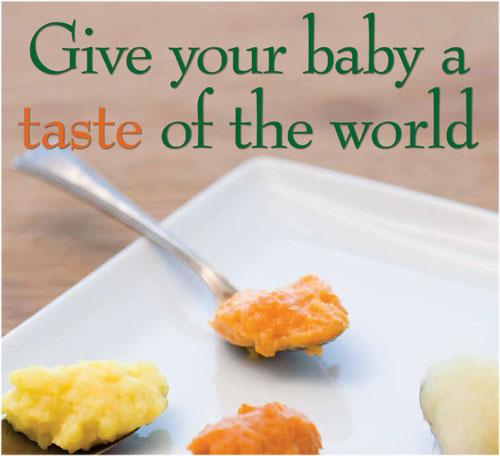 An appetite for adventure starts in the high chair. Learn what moms around the globe feed their children and how you can shape your baby's palate from the start.
By Kate Geagan, M.S, R.D
Photographed by Samantha Berg
Food styling by Robyn Valerik
---
Faithful pediatrician appointments? Check. The right sleep-training manual? Done. But what's the best dish when it comes to introducing your baby her first foods at around 6 months? Is it possible to fend off picky eating, a penchant for candy, or disdain for vegetables simply by what she samples in the high chair?
The answer seems to be yes. Research shows that even before age 2, our children have a foundation for lifelong eating habits. And with childhood obesity rates at an all-time high in the past decade, pediatricians and dietitians are taking a more critical look at what's on baby's plate. Some of it isn't very pretty.
For a land overflowing with dietary choices, America's tots experience a relatively narrow window of foods. A 2002 Feeding Infants and Toddlers Study tracked the diets of 3,000 babies and found that 25% to 33% of 6 month olds don't eat even one serving of fruits or vegetables a day. By 9 months, potatoes— mashed or fried— are the most commonly consumed vegetable. And we're early sugar addicts, too: By the age of 2, a whopping 60% of toddlers eat some sort of pastry every day. Come to think of it, it sounds like American infants are eating rather like, um, American adults do.
So, how do moms today raise kids who are the eaters we want them to be— adventurous, curious, healthy, and flexible at the dinner table? One idea sure to make a difference: In a world that's increasingly flat, take inspiration from global baby cuisine.
How The Other Kids Eat
For Gita Patel, R.D., a New Hampshire-based dietitian who grew up in a vegetarian family in India, fragrant addictions such as turmeric, ginger, onions, and garlic were common in meals by age 2. Patel, who has brought up two kids in the United States, also prepared all her children's baby food in keeping with a typical Indian diet. By 18 months, her kids had millet, oats, leafy greens, lentils, yogurt, and clarified butter (known as ghee) as mainstays in their diet.
Sara Jenkins, author of Olives and Oranges: Recipes and Flavor Secrets from Italy, Spain, Cyprus, and Beyond, was raised in Italy and has a Moroccan husband. For Jenkins, building a healthy eater began at the breast. "When I was breastfeeding, all those recommendations that you don't eat spicy food, I ignored them all because it sounded like a recipe to build a kid who didn't like any of that," she says. Research seems to back up her instincts: A 2008 study in the journal Pediatrics for example, found that breast-fed babies whose moms ate peaches when they were nursing ate more of this fruit than formula-fed infants, likely because they'd been introduced to the taste.
Even though Jenkins is raising her son in the U.S., the lessons from her global gastronomic experiences still form the bedrock of her approach to feeding a baby. When visiting family in Morocco at 11 months, he ate straight from the grown-ups' table: fish and carrots from stews, some sweet potatoes. Now her 2 year old eats chicken tagine with preserved lemons and olives— not exactly what you find on an average kid's menu, which usually oozes cheese by that age.
Jenkins offers another critical piece of advice for American moms: Keep offering options rather than filling up baby with the same old standby. "I try not to stress out if he doesn't eat something," she says. "Some days, he says, 'I don't like it,' he doesn't much, and he might go to bed saying he's hungry. But then the next day he might try it again and eat all of it." Indeed, it can take many, many exposures— some experts say up to 20 or 30— for a child to like a food.
Try This at Home
Iron Chef America star Cat Cora, author of Cooking From the Hip and Cat Cora's Kitchen, grew up in a Greek household and agrees that starting young with flavors and tastes is key. "When you're introducing your baby to rice cereals and other solids, put a pinch of spice such as cinnamon, ground ginger, or nutmeg in the food," Cora suggests. "In Greece, babies are introduced to herbs, spices, marinades, citrus, and other freshly grown ingredients at an early age. With my own kids, we also roast garlic, puree it, and put it in our baby food. This helps a baby's palate to understand flavors." Cora grew up eating feta, spinach pie, grape leaves, olives, fresh fruits, and fish— a Mediterranean diet that's not only one of the global gold standards for healthy eating, but downright delish to boot.
American moms, even those with ho-hum culinary heritage like myself, can learn from the global cuisine scene and adapt it to our own lives. After all, it's not just top-tier chefs and trained nutritionists who make the grade when it comes to feeding their kids: In Africa, babies start on porridge made from grains like sorghum or the starchy root cassava, maybe with a bit of peanut or soy flour stirred in, then graduate to a diet of mashed local produce, like sweet potatoes. Hispanic children typically eat fiber-rich traditional foods like tortillas and beans, while infants in Asian countries get everything from mild curries to fish to seaweed on their high-chair tray.
Tasty additions like cumin, cinnamon, mint, and red lentils now dot ingredient lists for many of today's purchased baby-food brands, so you don't even have to make your own (although it's easy— we promise). Liane Weintraub, co-founder of new-wave baby food maker Tastybaby and mother of two tots herself, shares one tip she's learned as she's gone pro: "Although moms want babies to eat many different ingredients, you never want to mask certain flavors with 'palate pleasers,' in other words, mixing spinach with fruit. Certainly, this might accomplish the immediate goal of getting a baby to swallow a bitter green vegetable, but it won't help create a life-long love of that ingredient." So as you experiment, be sure you're keeping an ingredient's true flavors alive.
Which means: Shake things up. Be adventurous. Serve your kids the same foods you're eating. And, if you cop to being a bit of a picky eater yourself, include foods that might not be your favorites (Brussels sprouts, anyone?) so kids build their own palates. Be sure to throw in different textures, flavors, and colors over the course of a week. Then, when you hit that next pediatrician appointment, you can brag about all the cool stuff that's going down in baby's high chair.
Kate Geagan, M.S., R.D., is an award-winning dietitian in Park City, UT, and author of Go Green, Get Lean: Trim Your Waistline With the Ultimate Low Carbon Footprint Diet. She is the mother of two toddlers.
---
Outrageous First Foods to Try
Many parents don't feed their babies "grown-up" food because they think they're supposed to withhold nuts, shellfish, milk, and other common allergens until 12 months or later.
But there's no evidence that delaying these foods after 4 to 6 months has any effect on allergies. My daughter Iris totally went to town on some oyster stew one time around her first birthday. (So why can't I get her anywhere hear an oyster now? Well, it's not because she's allergic.)
My suggestion (check with your pediatrician, of course): From 6 to 12 months feed babies whatever you're eating, as long as you mash or chop it into a form suitable for their powerful gums. Kids this age are almost never picky eaters— perhaps because they're finally allowed to put strange things in their mouths and swallow them. Iris's favorite foods during this exciting time included:
Beef and cabbage piroshky (Russian meat pie)
Ants on a tree (Sichuanese spicy noodles with pork)
Chicken enchiladas with red chile sauce
Stew of any kind: classic American beef, Italian stracotto, Chinese red-cooked pork, Mexican carnitas
Endive gratin, baked until creamy and soft
Sushi, especially mashed tuna from the spicy tuna roll

The only foods that didn't work well were the especially chewy (steak) or crunchy (salad). Don't worry, there will be plenty of time for those things later: Iris, now 5, is a steak fiend. Salad? Not yet. — Matthew Amster-Burton

---

French Flan for Bebe
French moms often make a version of this yummy comfort food for les petits to pack in nourishment and taste. Add a pinch of complementary spice— nutmeg with spinach, cinnamon with butternut squash— or some finely chopped herbs. Mom and dad will enjoy this, too, by the way.

Canola oil spray
1 to 2 eggs
1/2 cup pureed vegetables, such as butternut squash, carrots or spinach
1/2 cup cow's or soy milk
2 small ramekins, or one mini flan or mini casserole dish

Preheat the oven to 350 degrees. Spray ramekins or mini baking dish with canola oil. In a bowl or food processor, stir or process ingredients until combined. Pour into dishes, dividing evenly. Cover with foil. Bake for 15 to 18 minutes or until cooked through. Serve slightly warm or at room temperature. Store any leftovers tightly covered in fridge for up to 2 days. Makes 2 servings.

---

Indian Porridge With Turmeric
Think of this as a "Stage 2" dish to serve once your baby masters rice cereal and simple, one-ingredient purees, which are typically introduced first.

1 cup water
6 tablespoons white rice
1 tablespoon red lentils (known as dal when cooked)
1/8 teaspoon turmeric
1/4 to 1/2 teaspoon clarified butter (ghee)
Cooked mashed vegetables (optional)

In a small saucepan, bring water to a boil. Add lentils and turn heat to low; simmer, covered, for 10 minutes. Add rice and turmeric and continue to simmer, covered, until lentils and rice are soft and cooked through, about 30 minutes. Remove from heat. Mash mixture with a fork or potato masher or puree in a blender or food mill. Thin as desired with water or breast milk. Add clarified butter and mix well. Stir in mashed cooked vegetables, if desired, and serve slightly warm or at room temperature. Store any leftovers tightly covered in fridge for up to 3 days. Makes 2 servings.

---

Cat's Kitty Sweet Potatoes
Cat Cora's family will be adding two babies this year. So what's cooking in her home kitchen for the expanding brood? Here's one of the family's go-to recipes.

2 sweet potatoes
1 tablespoon olive oil
1 tablespoon freshly grated ginger
2 tablespoons fresh-squeezed orange juice
1/2 teaspoon cinnamon

Preheat the oven to 350 degrees. Wrap sweet potatoes in foil; bake until tender when pierced with a fork, about 45 minutes. Using oven mitts, remove potatoes from oven and carefully remove foil; let potatoes cool.

When potatoes can be handled, peel and dice them. In a food processor, process cubes with olive oil, ginger, orange juice, and cinnamon until smooth. Serve slightly warm or at room temperature. Store any leftovers tightly covered in fridge for up to 3 days. Makes 6-8 servings.

---

Pear and Apple Papilla
"Most babies in Argentina begin with a simple papilla or puree of fruits or vegetables that their parents make themselves," says Soledad Drago, a registered dietitian from Argentina. Here's a basic recipe; once you get the hang of it, try different fruits and veggies, and even add some spices.

1 apple, peeled, cored and cut into 1/2 inch cubes
1 pear, peeled, cored and cut into 1/2 inch cubes

Place cubes in steamer basket over simmering water; steam until soft, about 10 minutes. Place in a bowl and mash with a fork or a potato masher. Thin as desired with reserved cooking water or breast milk. Serve slightly warm or at room temperature. Store any leftovers tightly covered in the fridge for up to 3 days. Makes 4 servings.

---

Spring Peas with Mint
One of the yummiest parts of exploring taste traditions from around the globe is discovering some of Mother Nature's best pairings. Peas and mint are one of my loves.

1 cup frozen peas
1/2 teaspoon chopped fresh mint
1 teaspoon olive oil
1 cup cooked couscous (optional)

Cook peas according to package directions. Drain peas (reserve cooking water) and add to food processor with mint and oil, and puree until smooth. Thin as desired with reserved cooking water.

To provide more texture for older infants, add pea puree to couscous and stir until combined. Serve slightly warm or at room temperature. Store any leftovers tightly covered in fridge for up to 3 days. Makes 2 servings.