When I was pregnant with my daughter back in late 2006, I heard about an event so exciting, it took me two years to get there. Baby Loves Disco.
The premise is simple—50 parents who miss their club-going days invade a club during daylight hours, their youngsters in tow. Martinis, beer and wine are all available, as are goldfish/animal crackers, nutrigrain bars and juice boxes.
For the parents, there are chair massages and eyebrow waxing and for the kids, there is a rockin' dance floor with a DJ spinning hits from the 70's (think: "Well, I'd like to know where you got the notion…")
The theme was PJ party, so my kid sported her fleece-y pajamas, but I could not resist breaking out her best disco shoes: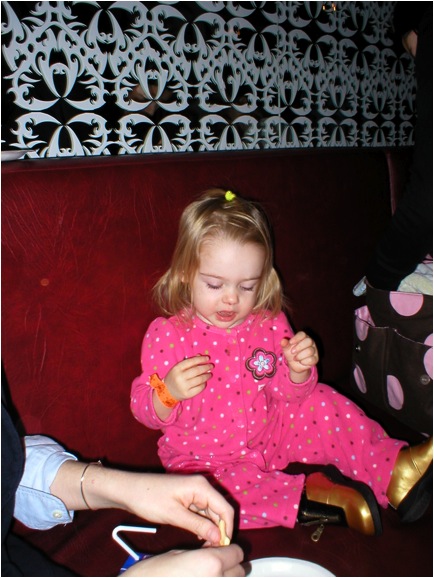 At first she was afraid…
My daughter is always a little nervous when she first enters a social situation and this one was no different. She surfed the perimeter, hanging out on the couches (lord knows what they had been used for the previous night by the 21+ crowd that usually frequents the place).
Dig it the Dancing Queen…
But by the end (thanks to a little "liquid courage," aka watered-down grape juice) she was channeling Abba, indeed: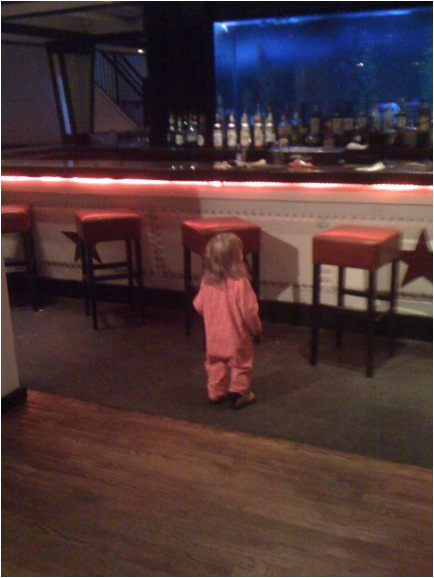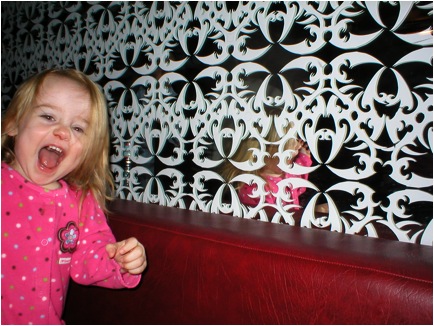 Shake, Shake, Shake…
By the end, sister was having a ball. We parents have to find the fun where we can and if a disco ball, bubble blower, noise-makers, 30 balloons and 5 dozen groove shakin' toddlers can't make you smile on a freezing cold Sunday, then I can't imagine anything would.
Here is my happy (and exhausted) toddler who did not stop 'till she'd had enough: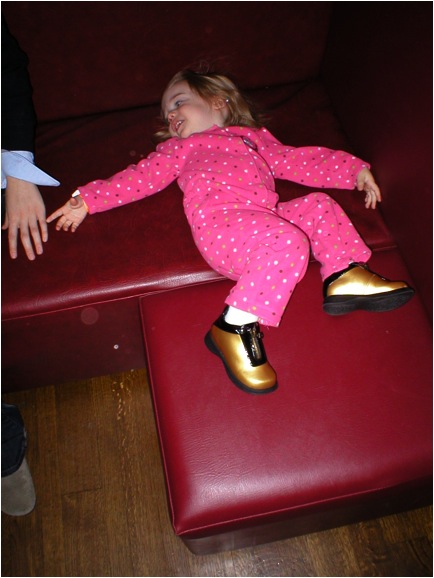 Sasha Brown-Worsham is a freelance writer whose monthly column runs online at The Family Groove. Her work has appeared in Pregnancy, Runner's World, Self and many other publications. She lives in Boston with her husband, daughter, son (and a cat and dog).