Last week a friend told me that she was fired from a daycare after only one day. Apparently her son had "too much separation anxiety."
I felt for her. But my own experience has been so different. Sam can't wait to get me out the door.
"Bye mommy," she calls when I leave her at the gym daycare, her baby sitters, her grandparents or, most recently at her pre-school. I know I should be happy that I raised such an independent toddler, but something hurts just a little when my daughter is only too happy to see me go.
Don't I mean anything to her? My son also seems to be following the path of his sister. Last week I left him with a sitter (the same one as my daughter) all day for the first time and, although I sense he missed my breasts, I am not sure he missed much more.
This independence is a double-edged sword, especially when my own separation anxiety is still in full force. I literally craved my son all day on Friday. Even though I knew I had to leave him, I did not want to.
He is only seven months, so I know he needs me. But what about my daughter?
"Go away," she shouts when she wants me gone. Is she two or 15?
But Saturday morning, when my daughter woke up, she called for me.
"Mommy," she said. I came right away and found her bed covered in vomit. She held me tight and cried. I stripped her sheets, washed them and gave her a bath.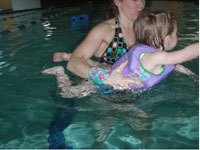 Later that day, when she needed someone to pour her milk, hold her hand down the stairs and get her snacks, it was "Mommy." When she was in the pool yesterday afternoon, she wanted to swim "by myself" but still clung to me with all the strength her little arms could muster. "Don't let me go, Mommy," she said, nuzzling her wet head into my arm.
She talks a good game, my girl. But she is still my baby.