I recently saw the movie "Marley and Me." In it, a writer loves his insane, scraggly, difficult dog for more than a decade in spite of all his faults. To most, the movie is sad. To me? It is devastating.
This is not because it is not schmaltzy. It is. This is also not because it is particularly well-done. It isn't. It is because I relate so much to the Jennifer Aniston character (named Jenny, oddly enough).
There is a scene where she is screaming at her husband after their incorrigable dog has woken their youngest, possibly colicky baby from a nap prior to wrecking the house. "He needs to get out," she screams.
I wept.
Because I think I said the same thing a few nights ago. Every morning I wake up and have to clean up pee. I once slipped and fell in it while pregnant with Alan. We can't use our downstairs because our dog keeps marking it as his and I don't want our children in an unsanitary environment. Rocky (our dog) stinks, he barks, he has impossible-to-meet needs and always manages to bark at the most inopportune times.
Who am I kidding? He barks All. The. Time.
And yet we keep him. We keep him because we made a commitment. Because another family would have given him away a long time ago. Because we know a dog with needs as vast as Rocky's would not be long for this world in a shelter.
He was put outside to die when he was just a puppy by an owner who did not know what to do with this high energy Chihuahua/mini pinscher mix. A year later, he was taken in by a Chihuahua rescue league that found him impossible to place due to his penchant for non-stop barking. And then we showed up on his foster family's doorstep, took one look at the yapping, snarling caramel-colored bag of pure insanity and fell in love.
For the first three years of our marriage, he was our baby.
Curled up with his brother on Christmas: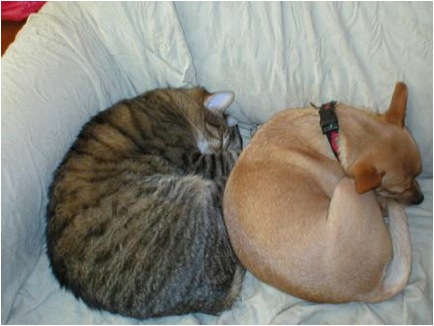 Learning to swim: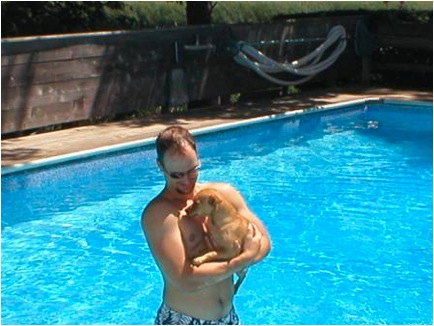 Poor dog. He was not long for that place in our family. From the day our first child was born, he was dethroned, exiled to the land of kenneling and trunk time instead of sleeping in our bed and riding shotgun in the car.
But he is a member of our family just the same. Even when he drives me crazy, he is here to stay. I refuse to have it any other way. After all, he is Sam and Alan's brother. And he ain't heavy. Just 16 pounds of pure love.
Sasha Brown-Worsham is a freelance writer whose monthly column runs online at The Family Groove. Her work has appeared in Pregnancy, Runner's World, Self and many other publications. She lives in Boston with her husband, daughter, son (and a cat and dog).