You know all that advice you read for pregnant women? The whole "don't gain more than 35 pounds (or less than 25) if you are a normal weight to begin with?"
Completely unrealistic.
I gained 50 pounds with both pregnancies. I am a relatively small woman, below average weight, 5'5" and a size four. Make no mistake: Every. Pound. Showed.
I used my pregnant pauses as a little science experiment and tried to gain less the second time around by eating less and exercising more. I was still running 10 miles a week at 37 weeks pregnant the second time and I still gained 50 pounds.
If there is a third baby, I am just going to eat hot fudge and lie all day on the couch because it seems to make no difference what I do.
Here is me at 34 weeks with my first pregnancy (perhaps five pounds shy of my eventual 50 pound weight gain):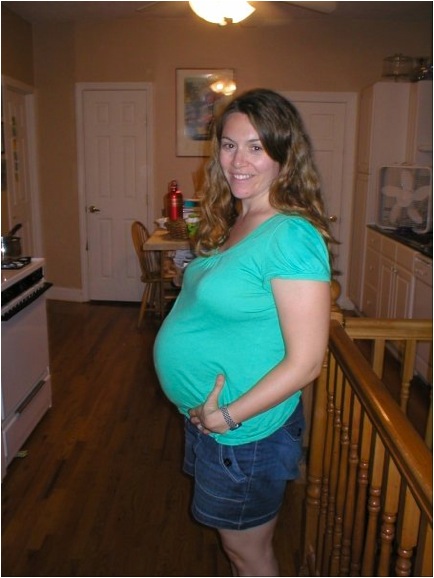 Here is me a few months later: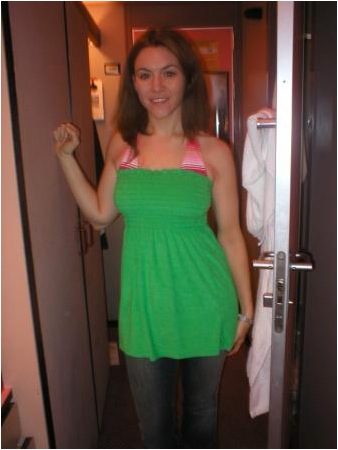 The thing is, I lose the weight. And no, I am not one of those women off whom the weight magically falls. Nope. I work for it. I run and lift and do yoga and pilates—sometimes twice a day. It is hard, hard work, but I think I owe it to myself to feel like myself.
The hard work is worth it to me because so much changes when a woman gets pregnant: her body, her priorities, her entire life. And if there is one small thing that can remain the same, it makes the other stuff feel a lot easier. I may no longer have a 9-5 job, sleep through the night or make leisurely weekend plans, but my body will look the way it did before kids even if it kills me to wake up at 5 a.m. and run five miles before the little ones are awake.
For me, it's worth it.
Sasha Brown-Worsham is a freelance writer whose monthly column runs online at The Family Groove. Her work has appeared in Pregnancy, Runner's World, Self and many other publications. She lives in Boston with her husband, daughter, son (and a cat and dog).