I have a confession: I loathe the holidays. Feel free to take me off your card list.
This bad mood starts to set in right about now. The air shifts from crisp to downright cold, three out of six of my favorite radio stations turn to an all Christmas music format and this Mama gets her Grinch on.
I am the last one most people suspect of this sentiment as I am the sappy sort who plans Halloween years in advance, cries at refrigerator commercials and may be the only person on the planet who has never referred to Valentine's Day as a "Hallmark Holiday" (um, hello, holiday dedicated to chocolate and sex? Me likey.)
But Christmas? Not so much. Something about the cloying music, the fake cheer and the rampant materialism make me want to take to my bed, which is where I am currently lying. My official story is a stomach flu/cold combo, but unofficially? I have to rest up to take on this season, lest I snap at the poor salespeople wishing me a "happy holiday" and fantasize about knocking egg nog from the hands of office party revelers.
I do not do Santa, reindeer, holiday outfits, Christmas carols, gift exchanges, gingerbread houses, trees, cookie baking, ornaments or egg nog. I play a better Scrooge than Bill Murray.
I hate this part of myself. Each year I hope it will be different and yet each year it creeps in again like some parasitic vine growing over the period between Thanksgiving and New Year's, rendering me helpless. I am perhaps the only person in the country who wakes up on January 2 and says, THANK G-D (although suicide statistics from the time around the holidays tell me I am not alone in my loathing).
But this year I have two small reasons to resurrect my latent holiday spirit. Far be it from me to tell them how to feel. Later we can hate the holidays together, but for now, I will try to give them "the magic of the season" or whatever weird slogan the discount conglomerate is currently espousing.
Since I don't want to overwhelm myself with huge projects like buying a tree, I am taking baby steps alongside my babies. We will begin with baking. I have agreed to exchange small ($20) gifts with my husband, buy each of my children small ornaments and even make a gingerbread house (from a kit. Remember: baby steps).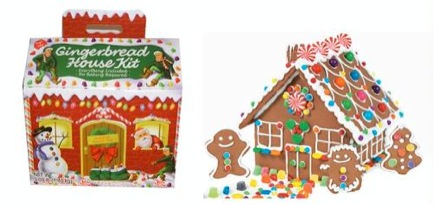 So throw the Yule log on the fire or some such thing. This Scrooge is baby-stepping towards seeing the (multi-colored strands of) light.
Sasha Brown-Worsham is a freelance writer whose monthly column runs online at The Family Groove. Her work has appeared in Pregnancy, Runner's World, Self and many other publications. She lives in Boston with her husband, daughter, son (and a cat and dog).