So many mothers I know are unhappy. It's no wonder. Much as I love being a mother and adore my children, the monotony and Sisyphean nature of the work can often make even the most well grounded mama want to bury her head and sob.
But not me (at least not most days) because I ascribe to the theory of three.
I believe that a person is only built to handle three big things at once in their life. Once you start adding to the list—laundry, cleaning, cooking AND a playdate—then you start to lose it, feel guilty, get unhappy and then complain. And then the mommy friends who have the fun, drinking playdates no longer call and you get stuck with the whiny, judgmental moms whose children bite.
In the interest of your future social life, I will share my personal road to happiness.
Step One: Identify your Three.
In my case, I can focus on working out, writing and my family (this includes alone time with the hubs, museum going with the babies and all diapering, nursing and cuddling. It does NOT include laundry, cleaning up when toddler daughter decides to squirt ketchup on the floor or laundry—it bears repeating)
Step Two: Learn to ignore the messes that accumulate on household surfaces: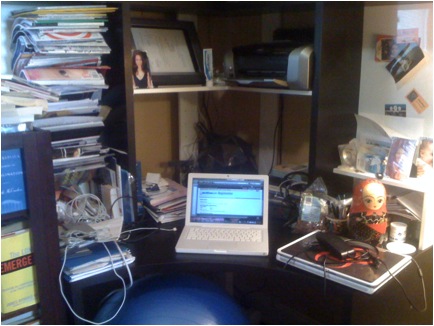 Step Three: Order take out five nights a week.
Step Four: Outsource all tasks you are not good at (in my case, cleaning)
If you follow all of these rules to the letter, you will find yourself hanging out with all the cool kids and spending more time discoing and less time whining. And if the bad economy means outsourcing is not a possibility, try to convince your husband that one of his big three is laundry. Sometimes this even works.
Sasha Brown-Worsham is a freelance writer whose monthly column runs online at The Family Groove. Her work has appeared in Pregnancy, Runner's World, Self and many other publications. She lives in Boston with her husband, daughter, son (and a cat and dog).