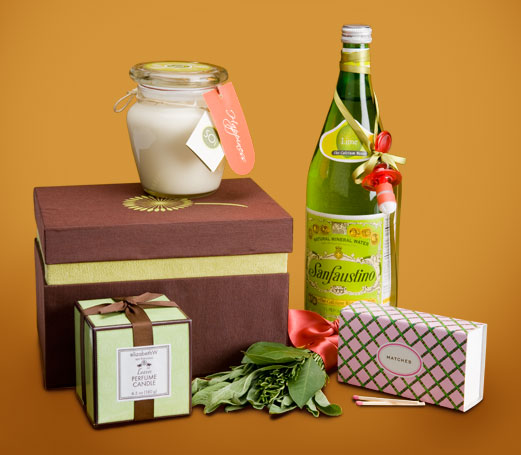 Clockwise from top left:
Candles are a classic. Your hostess will love a Soi Jar Candle in Holiday Spirit, presented in Wishwrap's stylish keepsake box, $28.
Ease into the evening with something non-alcoholic for you to sip—like Sanfaustino Natural Mineral Water with Lime, which is high in calcium. Then add a cute bottle stopper to preserve the fizz, $3 at Whole Foods Market.
A box of Iomoi Bamboo Pattern Pink Matches is both pretty and practical. How else will your hosts light all those candles? $12 for 2 boxes.
To keep it simple, include fragrant fresh herbs—from the grocery or your garden—tied in pretty ribbon for a culinary bouquet.
The ElizabethW Perfume Candle in Leaves also comes in festive packaging, $30.