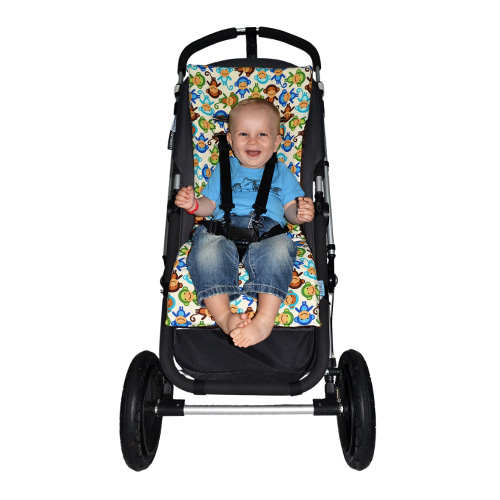 Interestingly, the Tivoli Couture NuComfort stroller pad makes me feel better when my baby uses it. However I've always thought our umbrella stroller just doesn't provide enough support for my baby's back. When I put her in the stroller, I feel guilty thinking I am sacrificing my baby's comfort for the convenience of the lightweight, collapsible stroller.
Enter the NuComfort stroller pad which is made of the memory foam, the same kind we have in our memory foam pillow. It adds enough cushion to the stroller without adding significant bulk, and even after attaching the pad, we can still fold and unfold the stroller as we did before. Although my baby is still too young to make a comment on using the pad, she seems to enjoy the support.
The pad also works well as a windbreaker, perfect for the cold nights of winter when the wind goes right through you. The plastic covers on most strollers only block the wind coming in from the front. With this pad, you can create a well-protected environment for your baby, though it might not be ideal not for the hotter days of summer when a draft is a good thing.
The cover design adds a little fashion flair to the stroller. Having a bit more in the way of patterns and colors on an otherwise drab stroller is definitely more fun. The pad is available in reversible 100% cotton print or solid-colored minky. The material is Antimicrobial and Hypoallergenic and can double as a as a play mat or a diaper changing pad.
Pros.
It gives comfortable support to the whole back of your baby while sitting in the stroller. It works well as a windbreaker. Nice cover design.
Cons.
It might block the ventilation when it is hot and humid. (We have not used it in summer yet. No problem at all, so far.)
I recommend this stroller pad for its excellent back support, especially for lightweight stroller users.