There's no denying the importance of sunscreen. But your sun-sensitive pregnant skin makes daily use even more crucial. And you want to cover all exposed areas—face, neck, hands, arms. "There's a lot of incidental sun exposure during the day," says Beth Lange, Ph.D., senior director at the Coppertone Solar Research Center. "If you go out for lunch and you're walking around outside, you want to reapply."
Because pregnancy increases the chance of melasma, a darkening of the skin that's often a hereditary condition, Lange recommends a broad spectrum SPF 30 sunscreen that blocks both UVA and UVB rays. The ingredient avobenzone is the gold standard in broad-spectrum protection, she says.
The Environmental Working Group (EWG), a nonprofit organization that investigates the presence of toxins in our daily lives, prefers different ingredients for broad-spectrum protection: zinc oxide and titanium dioxide, which block the sun physically, not chemically—meaning they don't penetrate your skin.
In fact, EWG is asking the U.S. Food and Drug Administration to investigate certain chemical sunscreens, which may be disruptive to the hormone system. But research is still emerging, so it's a good idea to weigh effectiveness, safety, and usability when it comes to an essential product like sunscreen.
"It's important to choose a sunscreen you'll actually use," Lange says. "It should feel good on your skin and be easy to incorporate into your routine." Go to the Environmental Working Group's website to check your current product's safety and effectiveness.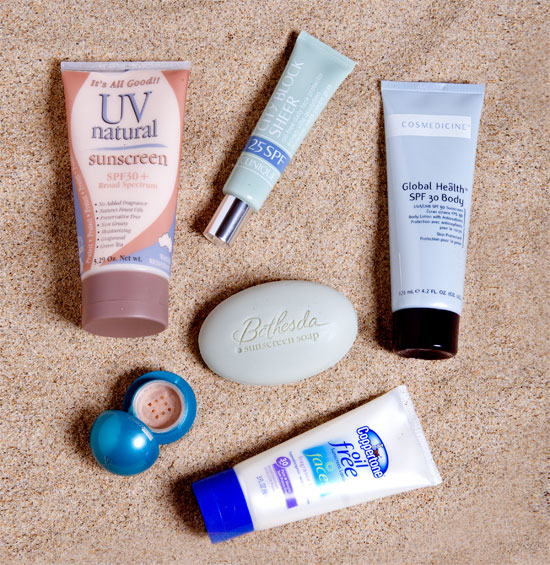 Clockwise from top left:
UV Natural Sunscreen SPF 30+, $30
Clinique City Block Sheer Oil-Free Daily Face Protector SPF 25, $17
Cosmedicine Global Health SPF 30 Body, $35
Coppertone Oil Free Faces Lotion SPF 30, $21 for 3
Colorescience Sunforgettable SPF 30 Orb, $40
Bethesda Sunscreen Soap SPF 10, $8